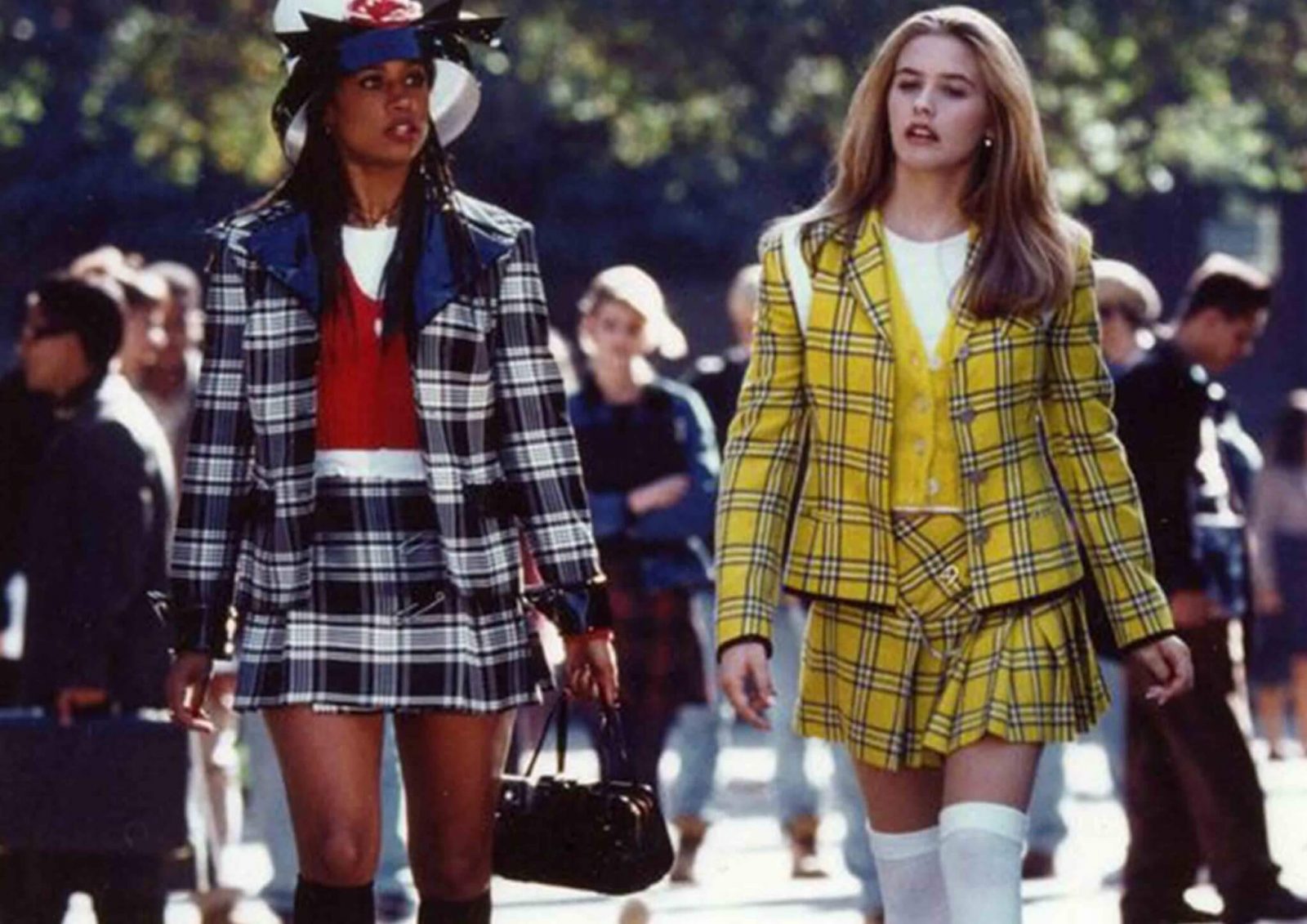 90s outfit ideas have a big impact on fashion. We have a pretty iconic 90s outfits ideas which are still in use at this modern day. Trend is always changing. Some are temporary, while some are long-lasting. However there are all these technological changes in our lives, we can't ignore 90's warm and dynamic fashion. Whatever the trend is, 90's fashion is still with us. So, let's have a further look at what were the most Fashionable 90's Outfits.
If you want to get more information about the 90's Era, you should definitely check other related articles:
What Were the Popular 90s Outfits?
Mom Jeans
First of all, Mom Jeans. It was the time, when extremely loved mom jeans took place in our lives. All the 90's icons were wearing it and rocking it. Winter or summer, ripped or normal, fair or dark… It doesn't matter. It was used anywhere anytime.
In particular, you can achieve a sportier style by stuffing loose t-shirts and sweatshirts into your trousers. Here you can find the most stylish mom jeans that I found for you!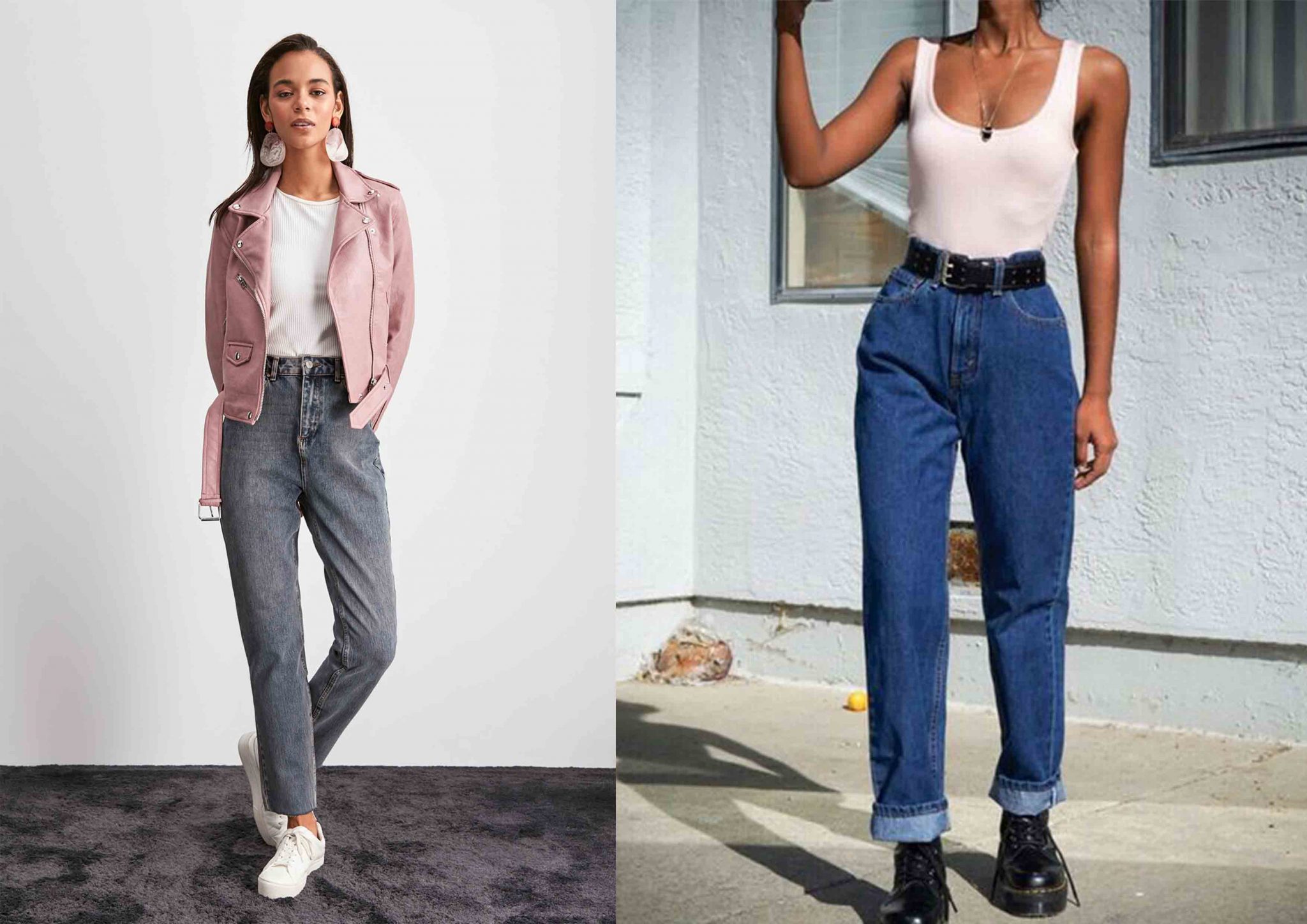 Cargo Pants
Also, cargo pants were one of the most popular trouser models of the 90s outfits. These pants are now being worn again and regained their popularity in the 90s. The most important feature of these trousers is that they have LOTS OF POCKETS!
First, let's start with the grunge style,
As in every trouser pattern, there are many different models in cargo trousers, such as denim, oversize, or elasticated legs. STYLING TIP: I think cargo pants can look flawless if you pair them with a crop top, sneakers, and cross-body belt bag(fanny pack).
Bella Hadid is one of the celebrities that best reflects the 90s outfits today. When it comes to choosing the best-looking trousers, you should also take a look at Hadid's cargo pants selections which are very inspired by the 90s outfits. Here you can find the most stylish cargo pants that I found for you!
Bike Shorts
Another piece that was worn most frequently in the 90s outfits was short tights, also known as bike shorts. Celebrities and It girls were wearing bike shorts a lot in the '90s. Among these names, Lady Diana is one of the celebrities who combines bike shorts best and declares their timelessness.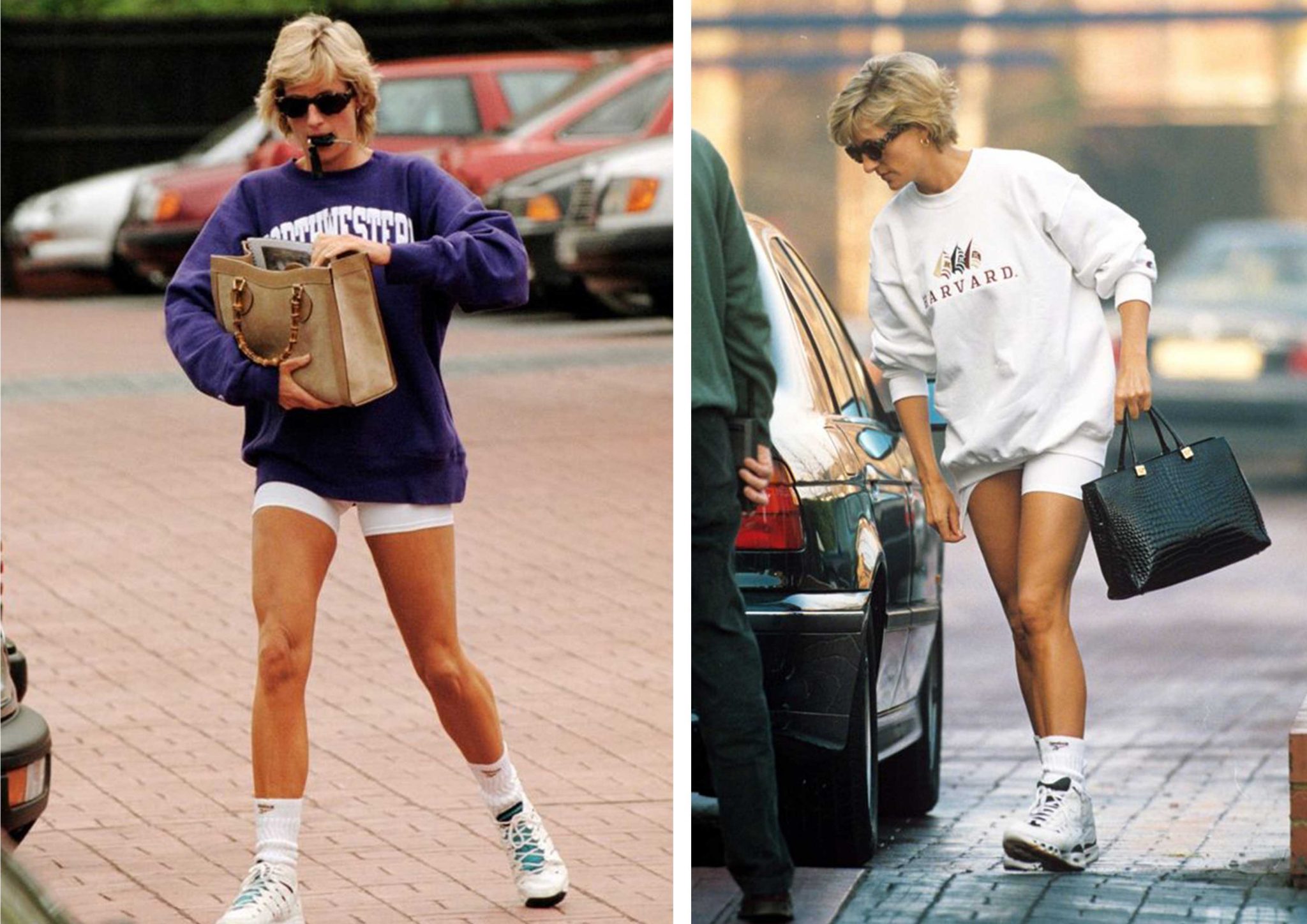 My favorite thing about bike shorts is that they can be easily combined with just a t-shirt, sweatshirt, or denim jacket. You can often see bike short in the outfits of style icon Hailey Bieber.
Also, you don't have to wear bike shorts only in sports outfits. You can wear shorts with a fitted blazer jacket or just with a shirt. I love the whole black outfit on the left! It was a simple yet eye-catching look with a short, tight t-shirt and blazer jacket. On the other hand, it is possible to look very stylish with the help of a white t-shirt, blazer jacket, and some jewelry! Here you can find the most stylish bike shorts that I found for you!
Crop Tops
Since we also met with crop tops in 90's, it was very fashionable combining pants and jeans with crop tops. It was one of the favorite 90's outfits.
I think we can all agree that crop tops have big popularity even today. Although everything oversized is beautiful, the crop tops are indispensable pieces of my wardrobe. Here you can find the most stylish crop tops that I found for you!
Oversize Blazers
Using oversize jackets with your sport or elegant outfits can make those outfits cooler because it pairs well with slip dresses, trousers, vintage denim, and so on.
Especially, oversized blazers worn with bike shorts can be a great way to modernize the 90s and today in one outfit.
My favorite thing about blazer jackets is that they can be worn as a suit. Generally, these suits consist of skirts, trousers, or even short pants. As in the first and second photos, oversized blazers combined with short trousers look very stylish. Plus, you don't even have to worry about the outfit! All you have to do is choose a top 😉
The plaid pattern, which came to the fore with the grunge trend and the 90s clothing fashion, is also frequently used in oversize blazers. You can create wonderful and effortless outfits with these patterned plaid suits that support comfort and a cool appearance.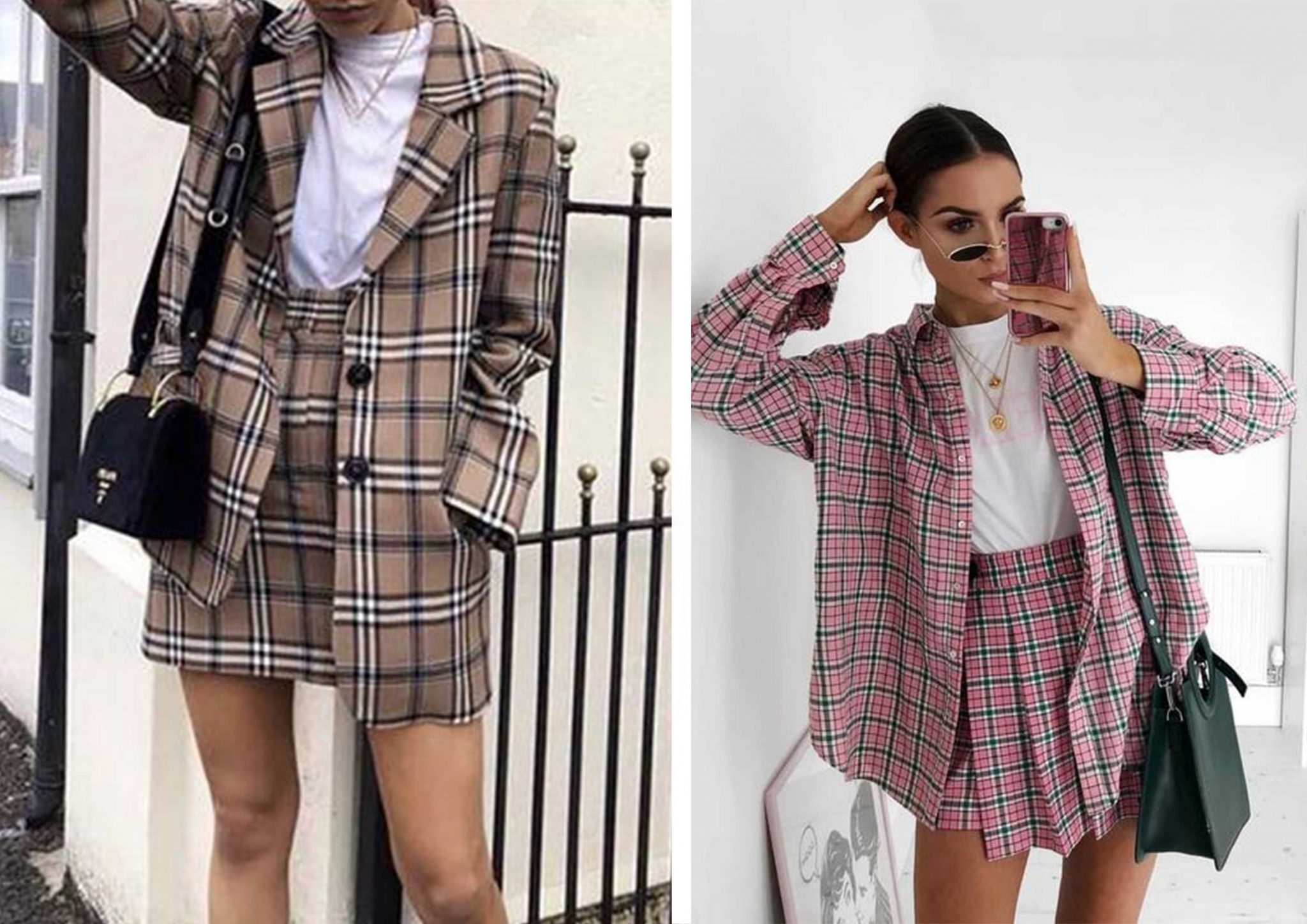 Who wants every clothes to be much more oversized? Well, check these patterned suits! Here you can find the most stylish oversize blazer jackets that I found for you!
Pleated Skirts
Who remembers the most iconic outfits from the 90's movie Clueless? And what about Cher Horowitz's favorite pattern? Yes, plaid it is. Plaid patterned skirts were one of the top stylish 90's piece.
As everyone knows, Friends is among the most famous TV series of the 90s. The Los Angeles Times similarly called it "absolutely the best comedy of the new season". And I can say that the character of Rachel Green often wears a pleated skirt.
Especially, speaking of plaid patterns, I can't miss this must for 90s outfits skirts. These outfits are from the Empire Records movie and the Gilmore Girls series.
Let's get back to the present! As in the first photo, wearing pleated skirts as a uniform can be a good way to reflect 90s outfits. You can create a street style with a leather jacket that you can wear on it. Another way is to combine it with a sweater! I really liked the second combination from head to toe.
How about making the outfit a little sportier? Then you know what you have to do. Just an oversize sweatshirt can solve any problem.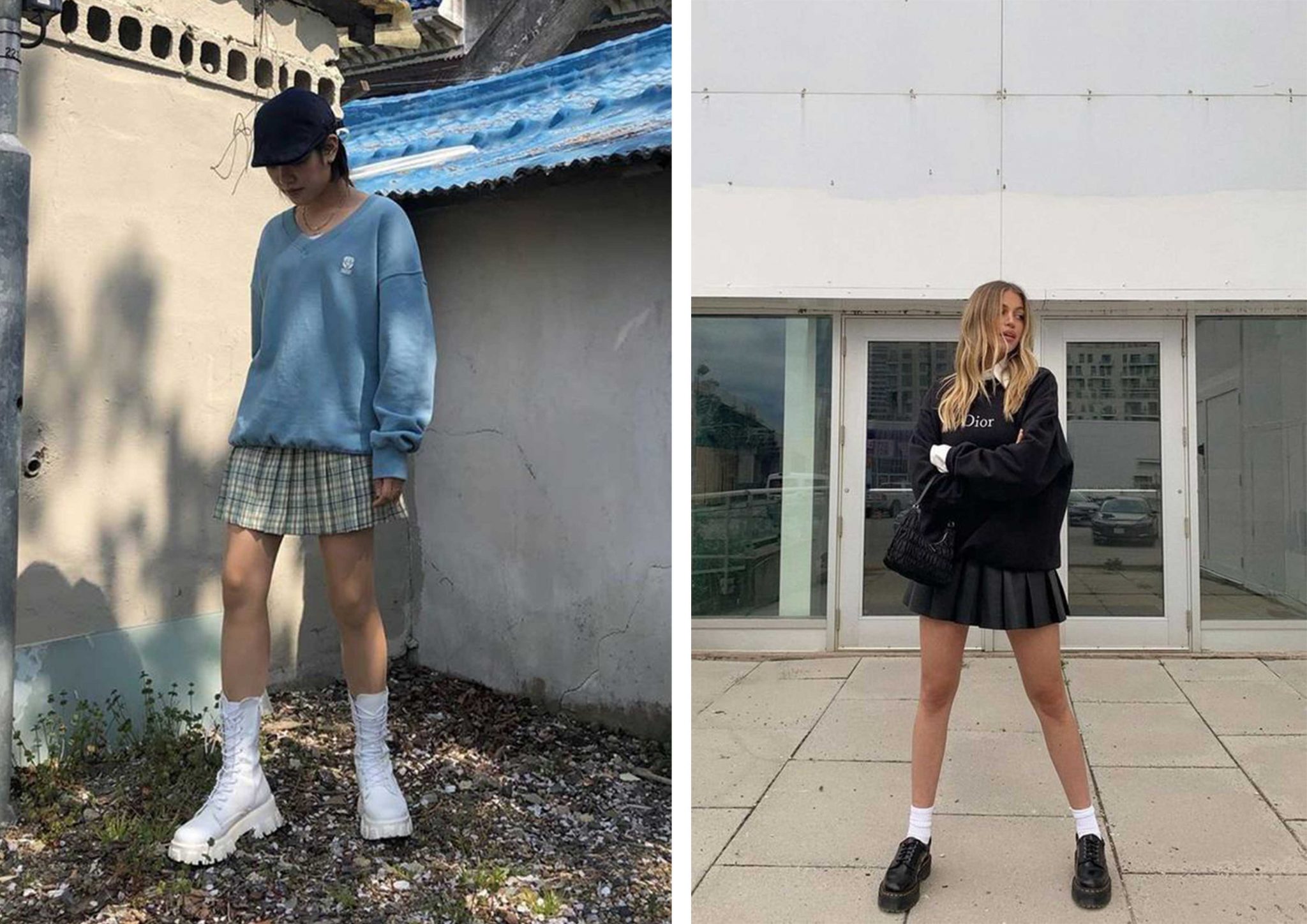 Using biker boots with skirts and dresses other than pants and choker necklaces were also pretty trendy back then. Here you can find cutest pleated skirts that I found for you!
Dress
So how were the dresses look among the 90s clothes? Well, that's a good question. When I think of 90s dresses, the first thing that comes to my mind is slip dresses. I think slip dresses will keep the popularity forever and ever because they look very elegant and stylish. It can also be quite suitable for both street style and invitations.
Wearing long sleeves in slip dresses? Thumbs up for that. It was also highly used during 90's. You can often see it in 90s movies and TV series. And girls, it looks good.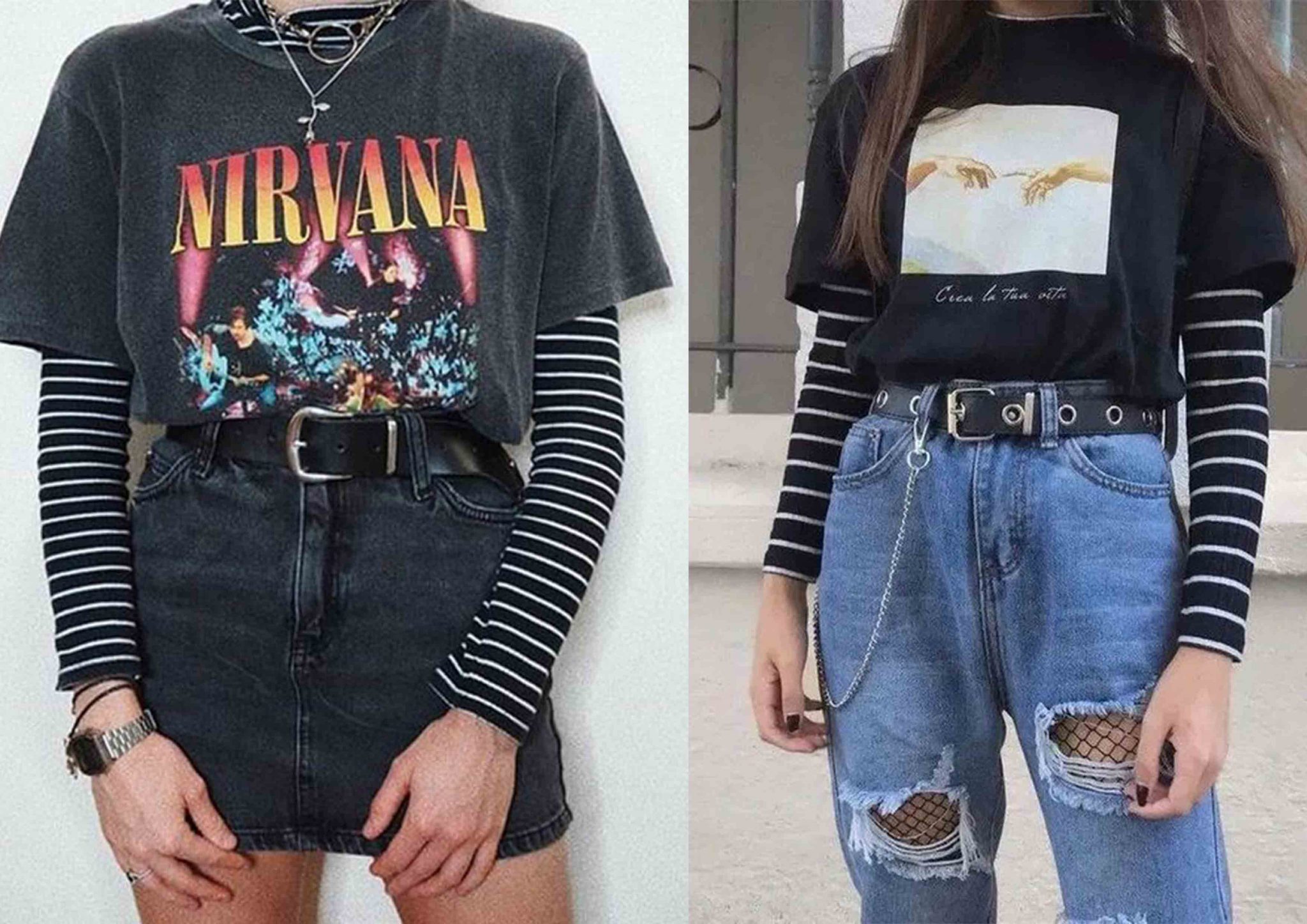 Also, from the leopard pattern to the snakeskin pattern, animal-printed dresses were so popular in 90s outfits. Nowadays, it has lost its popularity, but it can still be cool and stylish with the right pieces.
Super-short black dresses were the sexiest and sassiest in 90s outfits.
Sportswear
And 90s were colorful. Especially when it came to sportswear. Wearing loose sweatshirts in any color was so popular. It was a 'man thing' before 90's. Thanks to the 90s, especially to princess Diana, we became familiar with the oversize trend. She combined them with biker shorts, which also were one of the trends in 90's sportswear.
Claw Clips
One of the favorite hairstyles of the 90s was the messy bun, and people used claw clips for their buns. Today, when all kinds of hair clips are re-introduced into our lives, these claw clips have once again become one of the trends. Along with the hair clips, the hairstyles of those years have also returned.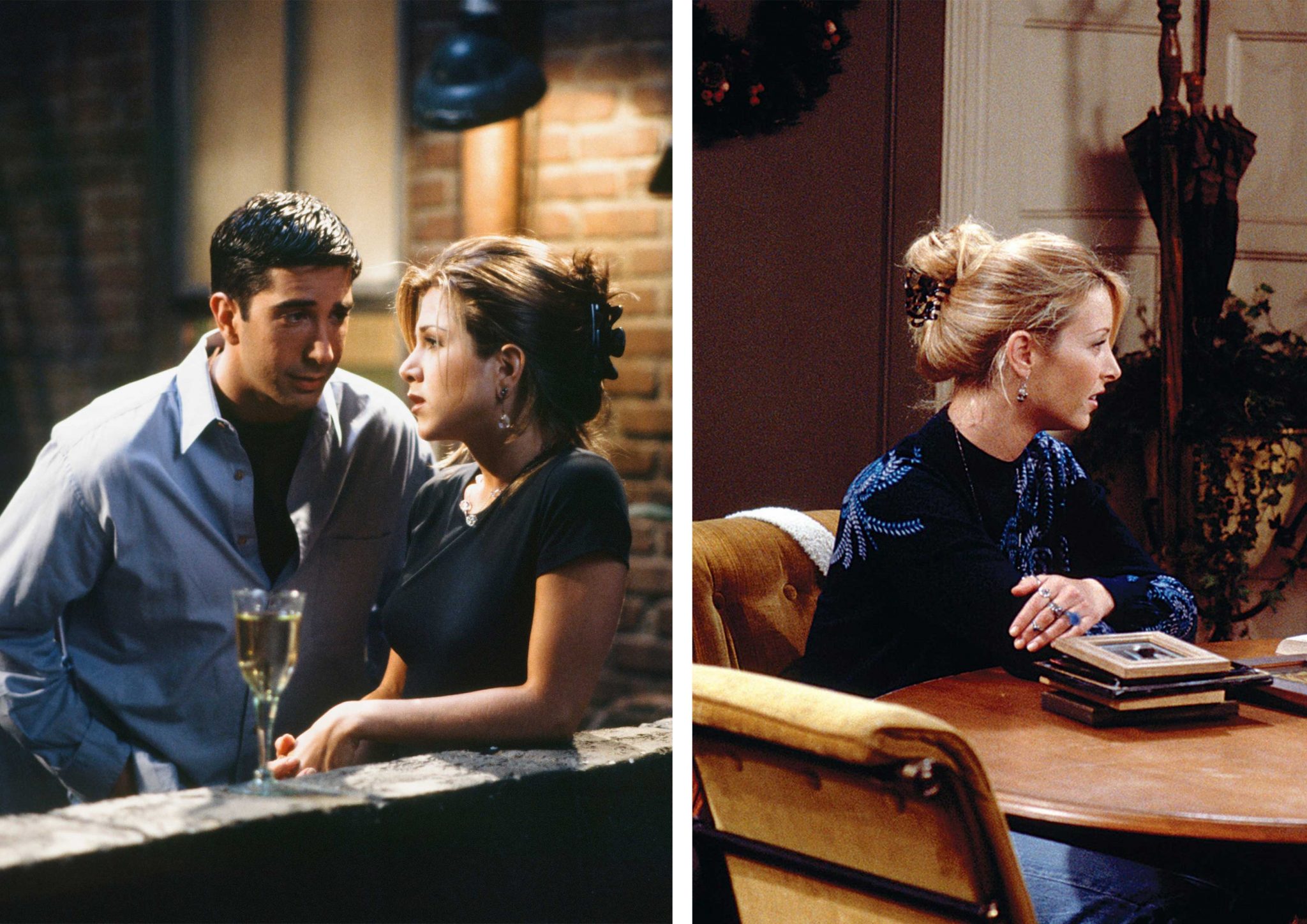 Today's representatives of 90s fashion trends Kendall Jenner and Bella Hadid use this bun by twisting straight hair upwards and fastening it.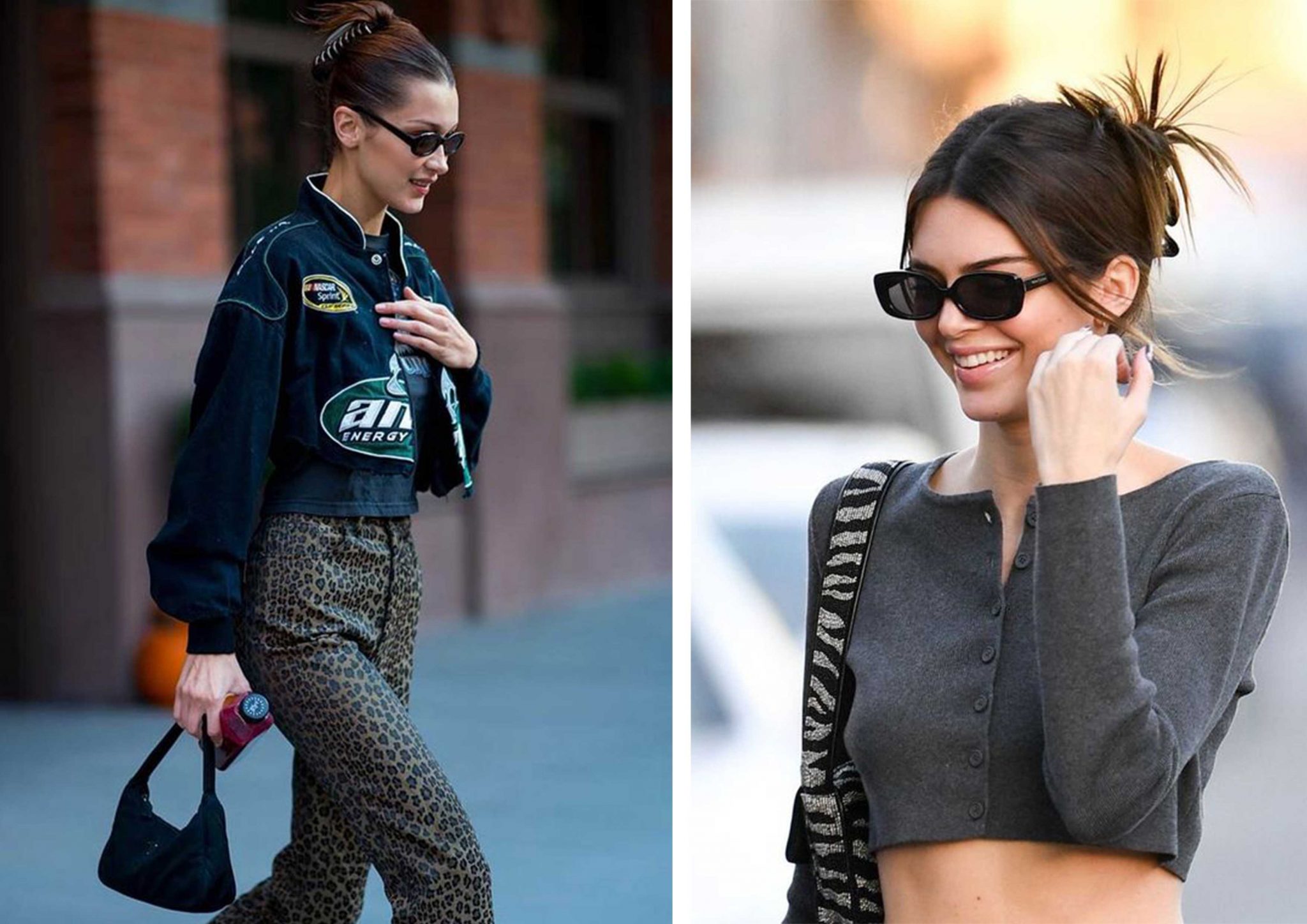 Bucket hats are also my favorite 90s inspired hats! You can find detailed information about it from Bucket Hats Trend article and my Fall Outfit with Faux Fur Bucket Hat!
90s Themed Party Outfit Ideas
Themed parties are roaming around all of us and 90s themed parties are frequently preferred. There are lots of icons coming from the 90s. So we have a lot to inspire from them to rock the party. Themed parties are for exaggeration. So, we can exaggerate as much as want. We should use every piece that reminding us of the 90's outfits, even grunge-inspired pieces.
Preppy Retro Outfits
First of all, preppy style is not only about fashion. It is a lifestyle created by the American collegiate lifestyle, specifically the Ivy League. It includes crisp and colorful pieces such as pleated skirts, sweaters, shirts, etc. Just like the American college students that we always see in the movies!
Nowadays, the preppy style has made a comeback, and it has become one of the most popular trends.
Overalls
The 90s also gave us the overalls trend, which is quite suitable for themed parties. It was super popular among the 90s outfits. In particular, The Fresh Prince of Bel-Air series has a huge influence on this overalls trend.
Also, overalls have quite a few different models. For instance, skirt ones, colorful ones, long ones, short ones, corduroy ones. Leaving one strap unbuckled can add you a cool vibe.
Retro Hip Hop Outfits
Do you like hip hop fashion and its culture? Well, it is the right time to be a real rapper with your outfit. Here are some pictures from 90s outfits and today's outfits for inspiration.
Hip hop outfits are generally about oversized t-shirts, jeans, flashy jewelry, tracksuits, bomber jackets, double denim suits, and snapback caps.
Pedal Pushers Retro Outfits
Pedal pushers are women's calf-length pants. It was trendy in the 50s, and it is also well-known among 90s outfits. I think pedal pusher pants are not aesthetic. These pants make you look shorter than you are. I don't prefer to wear it, but here are some suggestions for your big 90s themed party if you are interested.
In addition, I want to talk about these two photos. I think Jennifer Lopez's early 2000s outfit with pedal pusher is one of the fashion killer pieces I have ever seen. On the other hand, I'm in love with Bella Hadid's pedal pusher outfit!
90s Music Outfits
Firstly, the 90s music-themed party outfit idea can be from Britney Spears's concerts. These two photos from her concerts are consist of two main pieces: black pants and a top. It can be your 90s music-themed party outfit if you are a last-minute person.
Secondly, everybody knows her iconic outfit from her Baby One More Time song. All you need for this 90s themed party costume is a pleated mini skirt, a plain white button-up shirt, and knee-high socks.
Also, you can be any of the spice girls using all leopard pieces you have. If you are a fan of cheetah print like Mel B, aka Scary Spice, choose a pair of pants and pair it with the same print bralette.
In addition, if you and your friends want to dress like a group, it's the right time to show the girl power! One of the most famous music groups of 90s Spice Girls can be a good example.
High Waisted Jean Outfits
Do I even have to mention high-waisted jeans? You're probably wearing them right now. Yes, high-waisted jeans are the most popular models among the 90s outfits. They are really comfy and can be suitable for any 90s party because of their comfort! You can use a belt to feel the 90s spirit more.
Retro Grunge Outfits
People who adopt the grunge style are generally known as angry but fragile people who suffer. They reflect this aspect in their dressing style. You can achieve this style by combining strong pieces such as mini jeans, fleet socks, and military boots. Grunge fashion has been inspired by icons like Courtney Love, Gwen Stefani, and Kim Gordon.
Here is a grunge-inspired party outfit idea from the Poison Ivy movie. You can be like a grunge girl with the help of Drew Barrymore's character.
By the way, you should check our Let's Bring the 90's Grunge Look Back! article for more information about this era.
Vintage Velvet Dress Outfits
Another throwback from the 90s trend we wear today is velvet dresses! I think velvet fabric makes everything look more elegant, as you see in the photos from the 90s fashion show. Also, it can be a stylish choice for a 90s themed party.
Ripped Jeans Outfits
Ripped jeans are one of the most classic pieces of the grunge-style outfit. These jeans were so popular in the 90s, and now they are becoming the fashion again! Ripped jeans can combine with just about anything. For instance, a red strappy top, a white long-sleeved crop top, or just a hoodie.
Retro Windbreaker Outfits
90s outfits consist quite all about Colorful Pieces, as I mentioned before. Also, nowadays, you can really make yourself look trendy by wearing some vintage. One of these vintage pieces is the colorful windbreakers, the coolest jackets of the 80s and 90s outfits.
The easiest way to combine the windbreaker can be to wear it as a suit. On the other hand, you can choose an outfit suitable for the 90s with mom jeans and a t-shirt.
High Waist Plaid Pants Outfits
How about plaid pants? In my opinion, there is nothing better than a trousers with a high waist and plaid patterns that make your waist look thin! Also, these pants have different options for every style.
First, let's start with the grunge style, which was very popular in the 90s. With the help of the photos below, you can look exactly grunge at a 90s themed party.
Secondly, if we need to go back to the 90s, we can take a look at Rachel Green's plaid pants outfits.
In addition, you can combine plaid trousers, which is a trendy pattern today, with either a crop top or long sleeves. These trousers will also look great with biker boots.
90's Movie Outfits
Almost every 90s outfit can be wearing today. You can make your 90s party look easily with the pieces you already have at home. You can be Cher Horowitz using your plaid skirts.
The good part is you can make you own Mia Wallace look with only use of black pants and a white shirt. On the other hand, if you say, "I want to wear all black", you need nothing but a black t-shirt and pants.
Also, if you want to be the prettiest of the pretty, then you can wear your tutu skirt and steal the look of Carry Bradshaw.
Here is another one of our iconic 90s movie outfits: Pretty Woman. The main pieces in the first photo are a skirt swimsuit with side cut-outs and a red jacket. On the other hand, if you want to make a more formal outfit, the red suit you will wear over a white top may be the right choice.
What about Winona Ryder's beetlejuice look?

Retro Workout Outfits
All these workout looks (leg warmers, fancy colorful tights, and swimsuits) are proof that the 80s was a huge inspiration in the 90s. You can tap into your fashion of the '90s with your workout-themed party outfit as well. Additionally, tracksuits worn over shorts are among the most stylish 90s hip hop style pieces.
Vintage Mini Skirt Outfits
Another star piece of the 90s, of course, is the skirt! As I mentioned "What were the popular 90s outfits?" section, plaid skirts had a huge place among celebrities and brands. I think these kinds of skirts look REALLY stylish with anything you choose.
In addition, brands used very stylish skirts in their "ready to go" fashion shows. I especially love Channel's skirt chain!
Lastly, Fran Fine's character from The Nanny wore different kinds of skirts. You can take a look at it for 90s themed party inspiration.
90s Outfits Hairstyle and Makeup
What about hair style to complete your perfect 90s outfits? Butterfly clips, crimped waves, plastic stretchy headbands, and of course high ponytail with an oversized scrunchie were defining hairstyles in the 90s.
Lastly, let's remember some outstanding 90's Make-up Trends. Starting with blue eyeshadow, of course. It may be a trend which you want to forget about now. Also, opalescent eyeshadow and super thin eyebrows are really uncool. I personally would rather you to forget it and not mention at all again, but these trends were kind of a big thing in the 90s.
Other than that, there was also all-grunge eyeliner that was applied by putting black eyeliner under your eyes and also on your eyelids. It looked super super grunge, but it can be a good choice to use for your 90s outfits at a party. Brick-brown or burgundy lipsticks and super pale foundation should be used as well.
The 90s Inspired Outfit Ideas
As I said above, almost every 90s outfit can be wore in present times. Fashion is a cycle and it's not wrong to say that we love turning back to 90's a lot. For example mom jeans, I don't think there are still one of you who doesn't have at least one. They are sooo handy. Thanks to the 90's we met these high waisted jeans. You can wear them with everything and can go everywhere with them literally!
Faux fur coats are in trend now again! You can look like a 90's celebrity easily. In every shape and in every color, these latest trend coats are on sell.
Tie-dye t-shirts, dresses, shoes are also back. If you think a little color doesn't kill anybody, then you can try this trend. The best part is that you can even do it by yourself at home. I am sure your tie-dye t-shirts will be adored by everyone. You can find here three different easy ways to make tie-dye pattern at home if you don't know how to. Watch not only when it comes to tie-dye but you also should colors as much as possible. One of the favorite 90's outfits was mixing different kind of patterns and colors.
Slip Dress
No doubt, slip dresses are suitable for almost every event. You can wear it with strappy sandals to catch a classic look.
On the other hand, slip dresses can look good with sneakers. You can wear a long sleeve in your dress as in the last photo, and it is my favorite look among these photos.
Logo Tee and Jeans
T-shirts with logos have always existed in the fashion world. I think it can be a very suitable and effortless choice for street style. The 90s are with you with a pair of jeans that you will wear under your logo tee!
Knit Dress and Statement Bag
The knit dress that you will combine with the right statement bag will also look good on you. The monochrome outfit is the most preferred style in knitted dresses.
Also, this green dress looks pretty cool too. You can match it with the same color bag and a cardigan. STYLE TIP!!! You already know that wearing long sleeves in dresses is popular in 90s outfits.
Leather Blazer Over a T-Shirt and Jeans 90s Outfits
Leather blazers are so popular nowadays. It is a great idea to make a classic-looking piece sport-chic with blue baggy jeans!
Although I say how leather blazers look great with blue jeans, you should also give a chance to a black jean.
LBD and Strappy Sandals 90s Outfits
Do you want to look sexy in your outfit? Little black dresses are one of the easiest ways to do this. Also, as I mentioned in this article, it was pretty popular in the 90s. You can make a black-beige outfit like in the first photo. Or if you want to look more classic, wearing all black may be the right choice.
You can also wear a long coat or jacket over the black mini dress for evening events.
Denim Jacket and Leggings 90s Outfits
Denim jackets and leggings have become everyone's favorite outfits, especially after the pandemic. I also prefer to wear leggings and a denim jacket when I go to school or study because of their comfort.
Floral Dress and Cardigan 90s Outfits
Floral dresses and cardigans are the best duos. Especially oversize cardigans with tight dresses. It is possible to modernize your look with white sneakers, a bag, and jewelry!
Celebrities with 90s Outfits
Angelina Jolie 90s Outfits
The first look is from the 19th Cable Ace Awards in 1997. She preferred a slip dress which is the 90s outfit. The second look is from the Golden Globe Awards in 1998. She wore a shiny midi dress with a tulle shawl. Her hairstyle is not giving me the Angelina Jolie vibe but looks good. In addition, the blue eyeshadow she uses in her make-up is the biggest proof that she is in the 90s.
The other look is from the screening of Gia in New York 1998. She looks like a REAL 90s with her blue eyeshadow, brown lipstick, and leather jacket. The last look is from the 5th Annual Screen Actors Guild Awards in 1999. I have to tell you that her blonde hair was for Girl, Interrupted movie. Hair color aside, she preferred a white, simple breathtaking dress. This dress is absolutely timelessness, and it has to be worn again.
Cindy Crawford 90s Outfits
The first look is during the 63rd Annual Academy Awards in 1991. She preferred a fitted Versace dress with a plunging neckline. The other look I want to mention about is from the 65th Annual Academy Awards in 1993. I'm literally in love with this white dress. 
Cindy Crawford at the 1994 MTV Video Music Awards. I am not a fan of this dress, but its tiny shimmers have a unique vibe. In the last look, she was at the MTV Music Video Awards, 1992. She chose another Versace look with a strip corseted bodice and long and tight bottom.
Jennifer Aniston
The first look is from the 1995 Emmys. She wore a black dress, which is timelessness and can be worn again. I think the "thing" here is her gloves and hair. She looks stylish and flawless. The second look is more different than other looks, and it's from 1995 VH1 Honors. Wearing a bra to open-weave sweaters was all the fad in the '90s. Jennifer Aniston finished her outfit with a Y-necklace.
And here is my favorite look! It's from the 1999 Screen Actors Guild Awards. Although high waist was everything in the 90s, low waist fashion started to the end of the 90s. Although I'm not too fond of low waist fashion, I love her low-waist skirt and handkerchief top look.
Christina Aguilera 90s Outfits
The first look is from the Billboard Music Awards in 1999. Christina Aguilera had different 90s fashion moments than others. See preferred fringed crop top and tulle skirt. I like the idea of the crop top, but I hate that skirt. 
In the 1st Annual Teen Choice Awards at the Barker in 1999, Christina Aguilera wore an animal printed skirt and a cardigan. She is such a real 90s girl, isn't she?
Gwen Stefani 90s Outfits
First of all, I can say that Gwen Stefani's style has influenced an entire generation. She has a unique and bold fashion understanding. The first look is from the 1998 Grammy Awards. She was on the red carpet with her cyber-goth style. I don't like her outfit. These two pieces do not match each other very well. On the other hand, futuristic braids make her look interesting. In the second photo, at the 1998 MTV VMAs, she was unforgettable with a furry blue bikini and blue space hair, but I don't get the idea of a skirt and pants and also flip flops.
And she loves dying her hair.
Lil Kim 90s Outfits
The first look is from the 1999 MTV Video Music Awards. Rapper Lil Kim was on the red carpet with her one-shoulder jumpsuit. It looks like she was ahead of her time.
Naomi Campbell 90s Outfits
In 1995, Naomi Campbell preferred a shiny mini dress and matching heels. The second look is at the Fashion and Music Awards in the same year. She looks beautiful with this shimmering silver dress.
Donatella Versace 90s Outfits
The first look that I want to show you is from London 1992. Donatella Versace wore a look from Versace's autumn/winter 1992 collection, which is cool. It reminds me of Cindy Crawford's Versace dress at the MTV Music Video Awards in 1992. The second look is from the final Met Gala of the 20th century. Donatella preferred her famed jungle-print gown, which JLo then wore.
Jennifer Lopez
The first look is from the 55th Annual Golden Globe Awards in 1998. She wore a color-block dress with cutouts. I LOVE this beautiful colorful dress. She has to wear this dress again. I am 100% sure. Another outfit you have to see is from the 17th Annual CFDA Awards in 1998. This time she wore a sheer and sparkly slip dress. She looks very sexy in this dress. Also, I like her hairstyle.
In this look, Jennifer Lopez was at the 1998 MTV Movie Awards. She wore a silver top and leather skirt by Versace. She wore low-waisted trousers that became fashionable in the late 90s. In addition, the small hairpins in her hair were among the popular accessories of the 90s. The last look is kinda different from other outfits. Again, in 1998 she was at the MTV Video Music Awards. She wore a crop top, jeans, coat, and cowboy hat. This look is a good example of a monochrome outfit.
1998 MTV Video Music Awards 90s Outfits
The 1998 MTV Video Music Awards aired live on September 10, 1998. Lots of celebrity was here in their best outfits. Here are some of them that I pick for you. 
I think we saw some very bold, different, and fun outfits on the 1998 MTV Video Music Awards red carpet.
1999 MTV Video Music Awards 90s Outfits
There were quite different outfits at the MTV Video Music Awards in 1999. In particular, I think Lil Kim's one-sleeve jumpsuit outfit that I mentioned earlier is the most memorable outfit of the year.
In short, we still use almost every piece from the 90's outfits in present times. Thanks god, we don't wear gothic clothes anymore…
You can check Vintage Outfit Tips article to get more inspiration about 90s outfits. And I found a good article about blazer outfits.
See you at the next article girls!
Stay stylish!