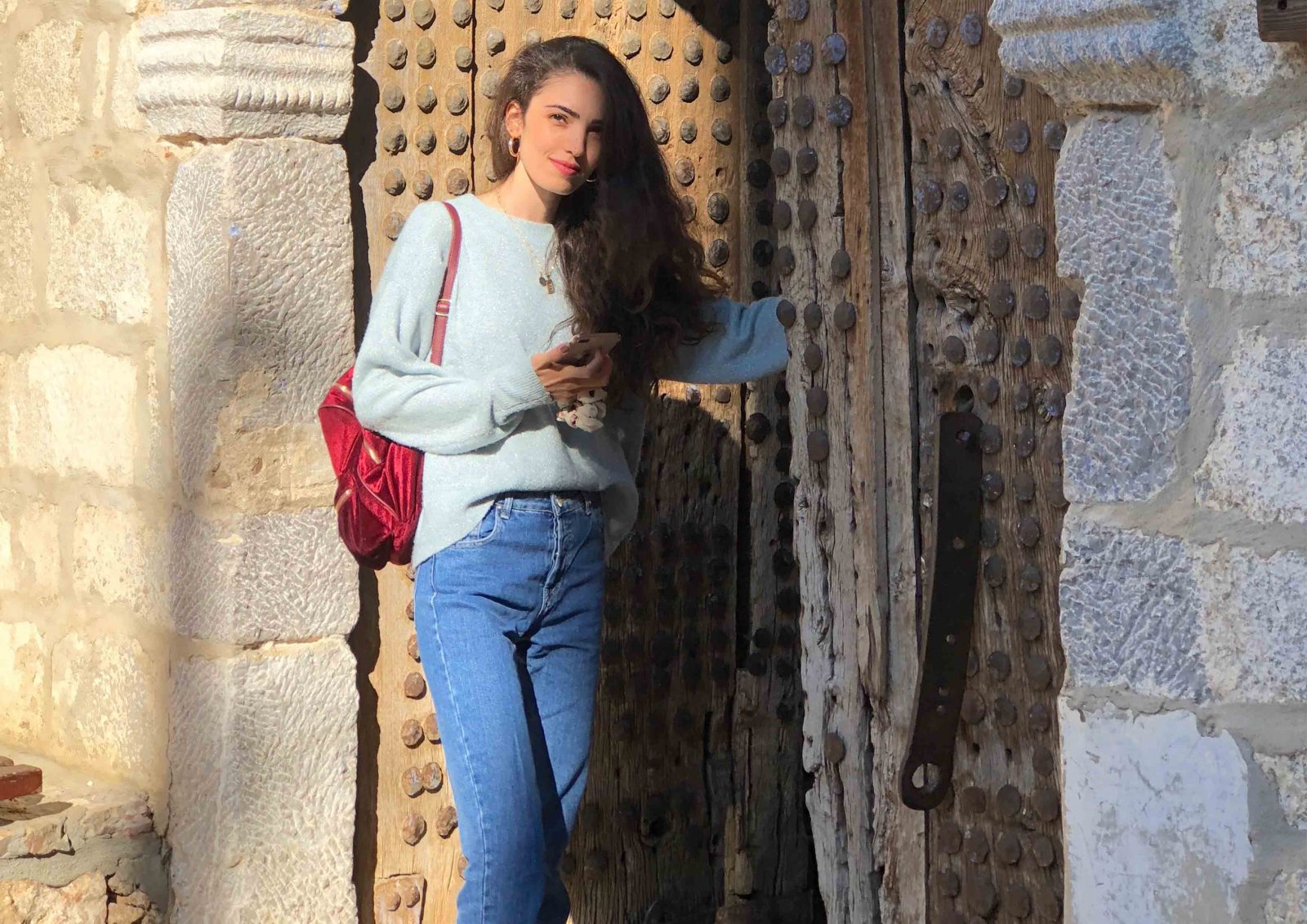 If we are talking about a vacation or a short term trip, I always put at least one of my jeans to my suitcase. As you know that, they are timeless items for fashion. You can always go for a jean outfits, it doesn't matter what the season is. There are some differences occur in time about jeans like their waist, size or tightness however, they always keep to being the indispensable items of our wardrobe.
So today I'm going to show you some casual and comfy jean outfits that I wore in my vacations. And going to make some advices about these jeans!
Mom Jean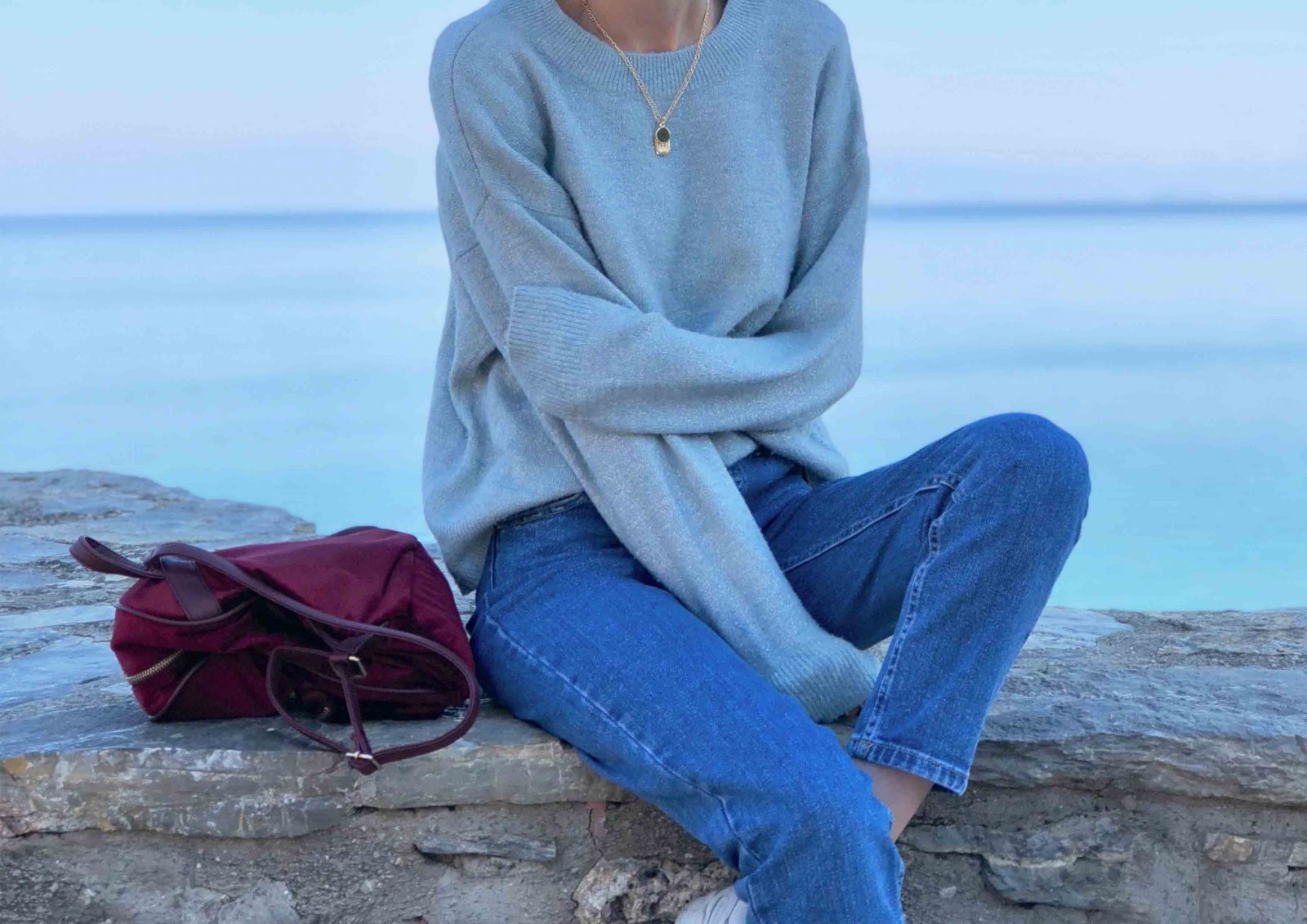 These days, mom jeans are very trend. I think this kind of jeans make our proportions look better. Because they can hide your legs very well, even if they are more thin or more thick than normal.
I like to wear this kind of jeans with oversized sweaters and white sneakers. As you know that it is really trend to match these jeans with big sneakers. I preferred to match it with my velvet red backpack to give it a color.
This jean outfit is really comfortable for long trips like I had last month. Because this jean doesn't tighten your legs, so you can sit with it for long hours in a bus! I had a Balkans tour and I wore this jean outfit there! You can check my enjoyable Balkans tour and see the perfect places that I travelled.
Saint Naum Monastery, Republic of Macedonia
Finally, if it is not too cold, I like to match my mom jean with oversized shirts like in the picture below. White t-shirt in it and white sneakers, that's all. You're ready! This is my Sunday jean outfit for a picnic. I like to wear small colorful brooches, so I use a rainbow brooch with this jean outfit.
Jean from Stradivarius
Shirt from Twist
Sweater from H&M
Embroidered Jeans
Here is my another jean outfit for travelling. I wore an embroidered jean with a jean jacket. Embroidered jeans are also very trend these days. I think they look pretty elegant if the embroidery is not too big. I think this is the important thing about these jeans. Mine has small red flower details on it and I prefer to match it with my red jacket. They look pretty good together! The bag is the same because this one is also a photo of my Balkans tour. I wore this jean outfit in Bosnia & Herzegovina, which is also one of my favorite place to visit!
Mostar, Bosnia & Herzegovina
I prefer to match this kind of jeans with cropped tops because I don't want to hide the embroidery. You can see another combination of the same jean from the picture below. I preferred to wear a similar color with embroidery, as a sweater. That's why, I matched it with my orange sweater and bag.
Jean from Mavi
Top from H&M
Skinny Jean Outfits
Coat from Mavi/Jean from H&M
I think all of us have at least one skinny jean in our wardrobes because this trend is not new. And also this photo is from a vacation that I took in 2016. As you can see from the picture, I like to wear energetic colors like yellow, orange. So this time I matched my skinny jean with a yellow coat. I think they look much modern and different together. Don't be classic and try to match different colors together!
I wore a blue sweater and jean shirt for this jean outfits. You can prefer to wear similar colors with your jeans however, I think it is better to give them a color with a bag or a coat like I did.
Venice, Italy
Rome, Italy
If you go to Italy in March it can be a bit cold, that's why I wore my coat! If you are looking for some advices about travelling Italy, you can click here.
High Waist Skinny Jean Outfits
Jean from Mavi
High waist skinny jeans have started to be trend many years ago but they are still in! This is a photo from 2015 however we are still wearing high waist skinny jeans. Especially this kind of dark colors are very useful for daily jean outfits. I can match it any kind of color easily.
I sometimes prefer to wear everything in one color like all black, all white or as you can see from the picture, all blue! I think this is kind of good way to match items.
As you know, Germany is very cold so I prefer to wear dark blue coat and hat with boots. This jean outfit is also pretty comfy and it keeps me warm because I can put my jeans into the boots! If I'm travelling in a cold city, it is really important for me to keep myself warm. That's why I prefer to take my long skinny jeans to cold countries like Germany!
Heidelberg, Germany
Black Jeans Outfits
I can't think a wardrobe without black jeans! Because it is the easiest and coolest way to make a combination. You can match any item with it but I prefer red and white for this jean outfit. I wore my black jeans with my black sneakers and a white t-shirt. I give it a color with red accessories like my bag and foulard.
Jeans from Koton
Bag from Zara
You can give a color to your jean outfits by using orange, yellow or red as I did! I think it makes you look casual but stylish at the same time. It is better to make combinations in different way, and you can make the difference with colors and accessories.
Stay Stylish!