As you know, fashion is a circle and it likes to go back to the old trends. Who doesn't like vintage fashion? Vintage clothing is, as you know, wearing pieces from the previous eras. What is the most popular vintage era right now though? The 90's it is! Nowadays we can wear almost every piece from the 90's fashion. Mom jeans, baggy jeans, big sweatshirts, crop tops, leather jackets, flannel shirts, combat boots, doc martens, slip dresses, denim on denim and so on. The 90's era has lots and lots of characteristic pieces and some of them are already mentioned here. However, for a detailed information about 90's Fashion Trends you should visit this article below. Whatever there is a trend that we never talked with you, The grunge 90's look. In this article we will focus on how to be grunge-y.
If you want to get more information about the 90's Era, you should definitely check other related articles:
What is 90's Grunge Look?
Grunge is actually a sub-genre of alternative rock in the mid-1980s. Grunge is often identified with distorted heavy metal variation guitar riffs. We know this style generally as aggressive, depressed, introverted, nihilistic and careless. The exact dictionary meaning is dirty and messy but do not let the definitions scare you. It is a really cool fashion trend.
The key of grunge 90's look is looking "effortless" and the one cornerstone pieces of grunge 90's look is oversized pieces. You can combine plaid shirts with oversized ripped jeans, mom jeans or mini skirts if you want to catch a grunge fashion style. Or, try to combine band t-shirts with long sleeved tops inside if you want to catch a 90s fashion trend look. Oversized and striped pullovers are also defining pieces of 90s grunge looks. From head to toes the rebelliousness and carelessness of the movement show itself. Dark makeup colors, leather bracelets and black ripped socks are complementers of the 90's grunge outfits.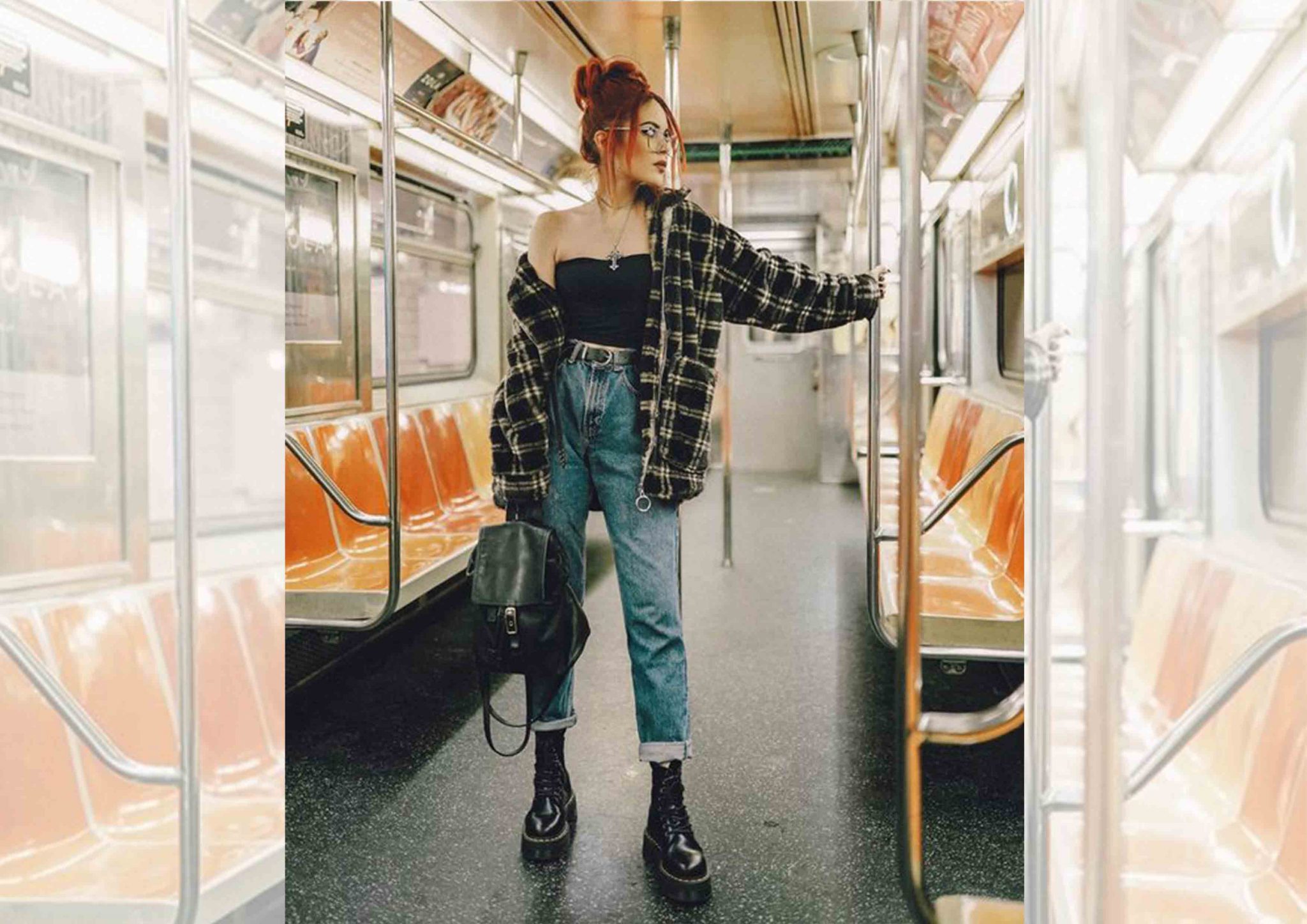 How Do I Have 90's Grunge Look?
It was a hit in the 90's but can not we adapt it to today's look? Of course we can!
I assume most of you have oversized t-shirts with a slogan or a logo on it, if you still don't have one, now is the time. It is a very trendy piece and you can combine it with literally anything. With mom jeans, skirts, sweatpants, biker shorts and more. The good part is you don't even have to combine it with a bottom at all. Because you can wear them as dress and they look so cool. You can wear sneakers or boots to complete your look. You can also wear some long sleeved top inside to make it more like grungy.
As I said above, plaid is a complementary element of 90's grunge look. Although it looks good, wearing plaid shirts is predictable. What about plaid pants? They are recently highly preferred by influencers. High waisted plaid patterned pants and crop sweatshirts can be your at-hand combination. For dates, friends meetings, shoppings, concerts… doesn't matter where you wear them as long as they are combined with the right shoe and the right bag. Celebrities like to combine it with boots and I think it looks super cool. If you have doc martens, it would be a perfect fit too!
There is a board which may help you build some other ideas on grunge look.
Celebrities with Grunge
When talking about 90's grunge aesthetic it is impossible to not to talk about grunge music or indie grunge. Because this type of musicians also lead this style. For example, if the grunge 90's look were a human being, it would be Kurt Cobain, the vocal member of the 90's music group Nirvana. He is the most iconic representative of this style. It can be even said that he is the reason the grunge became this popular. Courtney Love, Kurt Cobain's ex-wife, was also one of the most leading icons of the grunge 90's look. Another music group Pearl Jam members can be a good example of 90s fashion trends. Talented actress Drew Barrymore also made some grunge 90's look and she became one of the fashion icons of the 90's era. She liked oversized jackets and jeans combination.
Let's get closer to the modern time icons. One of them is the model Cara Delevingne. She looks like a complete grunge 90's look adapted to the modern times. Her masculine Twilight Saga star Kristen Stewart and former Disney actress Miley Cyrus also like using 90's grunge pieces combining their clothes. You can use their style as an inspiration. It gives them a masculine look which is also trend these days. If you also like a pinch of masculinity, this celebrities may be your new address to get inspired. Rihanna likes to try different styles and one of those styles was the grunge 90's look. Their styles may not completely fit in the grunge concept but the pieces they use give the grunge feeling.
Need More Inspiration about 90's Fashion?
If you need more inspiration about Vintage Outfits & 90's Makeup Trends you should visit our previous articles!
At the end of the article I want to suggest you this youtube video to give you more inspirations on your grunge-inspired combinations.I like the idea of tying flannel shirts to waist! And also there are some styling and color tips of grunge messy hair!
Do you want to get more detailed information about this trend? You can check soft grunge and pastel grunge styles too!
Stay Stylish!