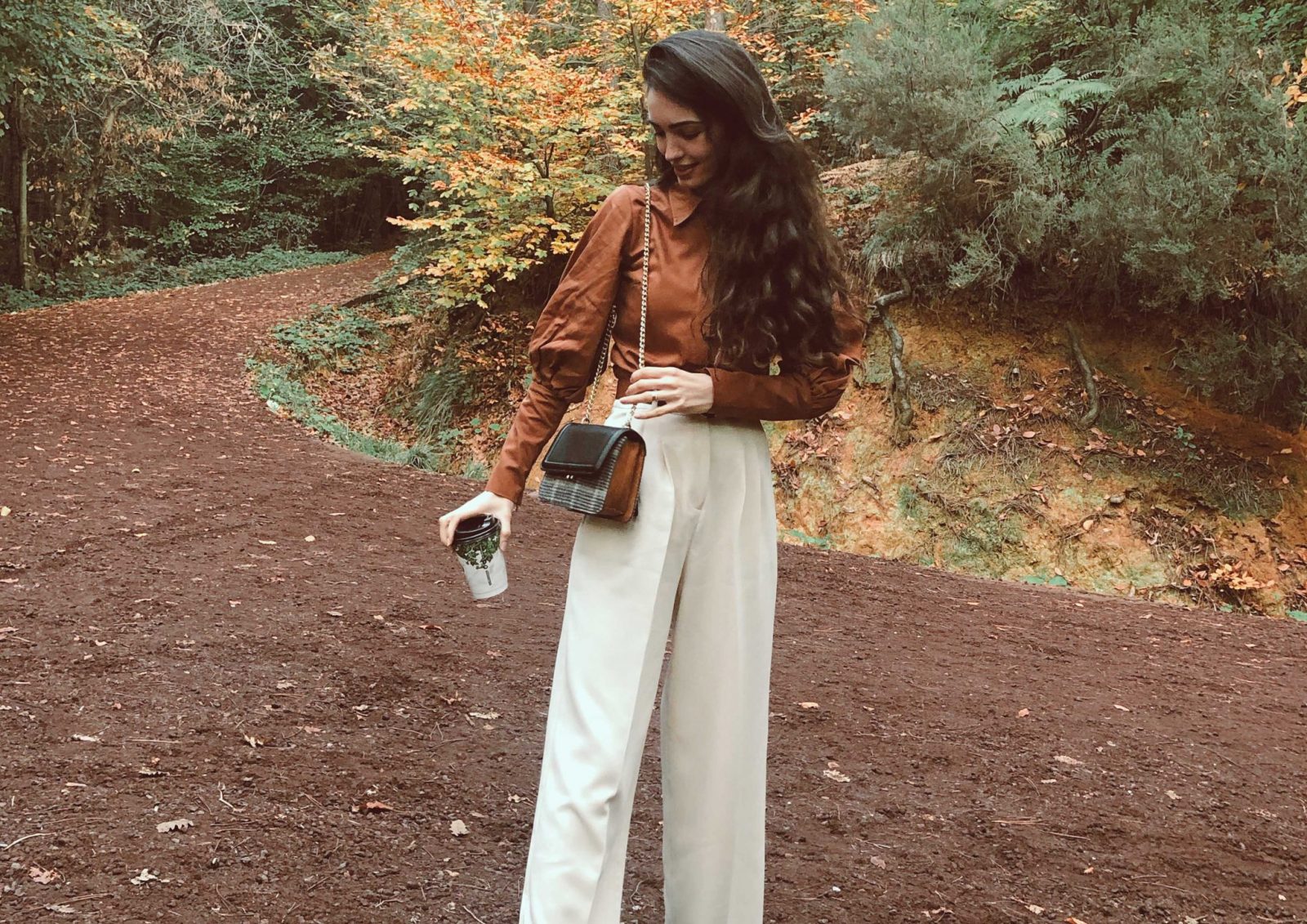 Hi everybody, welcome to my blog FashionActivation! I hope all of you guys are feeling great today. If you take your coffee and ready to get inspired, I'm going to talk about a latest trend: Palazzo Pants Outfit.
Palazzo Pants are become very in these days. I think that they are pretty comfortable to wear and stylish at the same time. It is hard to catch these two in one! So, I want to show you my Palazzo Pants Outfit Idea and some of my favorite looks from celebrities to street styles. Let's have a further look to my Vintage Styled Outfit!
Vintage High Waisted Palazzo Pants Outfit
Let's start with my color choice. I bought beige P. pants because there are too many different options to combine a beige bottom. This color goes very well with everything and it reminds me the fall color palette. Because of I'm a huge fan of fall colors, I decided to match this pants with brown and camel tones.
I wanted to catch a vintage look with this Beige Palazzo Pants. Therefore, I matched it with a camel colored vintage shirt. This shirt has very special sleeve details which gives me the vintage feeling!
I think I don't need to say that you should put your shirt inside of your pants. This is an unwritten rule of wearing high waisted pants 😉
Besides shirts you can wear Palazzo Pants with cropped tops and Blazer Jackets. You can find more outfit inspiration about Palazzo Pants at the end of this article girls!
Complete Your Look with Accessories
I wear my small bag for this outfit. It has chain and brown leather details. The leather detail color is really similar with my vintage shirt so they look matchy matchy.
I think the important point of this look is wearing a small bag like mine. Because this outfit has already too many bold details like high waist and sleeves so we need to keep bag a little bit smaller. So it won't take no more attention.
Small bag doesn't mean to be a bad one! It should be a small but stylish piece!
Besides of the bag, belt detail is also important for this kind of Palazzo Pants Outfit. Wearing a belt makes your outfit look more stylish and it completes the missing part of your look.
A cool belt can appear your waist line and give the vintage feeling. Especially this kind of camel colored gold detailed belts are perfect fit for your vintage looks!
You can find another Vintage Look that I created with the same bag and belt! Click here to check my Vintage Mango Outfit!
For more Vintage Outfit Ideas you can check my Vintage Wedding Dress Look or Vintage Midi Skirt Outfit by clicking on the words!
Other Palazzo Pants Outfits For Inspiration
Here are my other favorite Palazzo Pants Outfit for you to get inspired! You may have similar pieces in your wardrobe! Make sure to check all outfits!
One of my favorite formula for this kind of outfits is P.pants + Cropped top + Blazer Jacket. Second formula is monochrome outfits! Wearing same colored bottoms and tops look great with these pants! P. Pants are perfect fit for both business and daily outfits. It is very easy to combine it in a chic or sporty way. Just wear sneakers and cropped top on it, you are ready to go out with your friends. Or wear a chic belt and long sleeved top you can go to a meeting! Therefore it would be very useful if you have at least one P. pants in your wardrobe girls!
In this video, you can find how to style Palazzo Pants in a chic way! And also I like her other work outfits.. Just have a look at 2:32 minute!
You can find more styling tips here!
Stay Stylish!