We all get dressed every single day. Most of us feel motivated to buy something new and make stylish outfits to feel good and self-confident. Especially if you're reading this, you're one of them, who is interested in new style inspiration. Getting dress is just a necessity for some people who don't care how to look with their style, however, even they have a personal look. Here's the thing, why we're interested in making a statement with our style? Why do we love to match things up and show our outfits in the streets? Actually, we love to display our personality and even emotions through our outfits.
That's the fact, most of us don't know how to find style inspiration. Trends are changing every year and even months. However, we don't know if they're suitable for our personal style, or not. Most of the people copy from people who combine them for their styles.
Consequently, they're askew on you! We should take the trends and make suitable them with our personal styles and turn them into everyday outfits. In this article, we'll see some sources of style inspiration without copying them. And of course, don't forget how to use them for your personal style. Keep scrolling to dive into the inspiration!
Style Inspiration From All Over the World, Cities' Women
Truth to say, almost all cities' women have a style under the thumb of the place they live. But who can ignore that fashion isn't universal? Of course, outfits, colors, accessories and especially materials are created through climate effects and various factors. But fashion gets style inspiration from all over the world. For example, India saree style is just one of them and you can read the article that we talked about it before. In this part, we'll see some European cities' women outfits to get style inspiration that is famous for fashion weeks, street styles and famous people. Keep scrolling to see!
Parisian Style
"Before you leave the house, look in the mirror and take one thing off.", Coco Chanel
Romantic, effortless, the Parisian… The style, state of mind all over the world… Elegance doesn't mean effort, Parisian style inspiration is based on 'less is more' approach. Even if looking effortless, the Parisian style doesn't mean simple and ordinary at all! Balance is one of the keywords of this style. If these women wear a basic jean, they match it with a chic blazer from their wardrobe or even from their boyfriends. They combine their fancy dresses with lightweight coats. Also, they wear this iconic hat on their messy hair. Brown trench coats and chic cream coats and of course red lipstick, the sun of simplicity… Just wear your red lipstick and let the people take style inspiration from you! Voilà!
For a Parisienne, clothes and makeup have to accentuate the beauty of the body. Despite their minimal look, they don't be shy to add remarkable pieces such as patterned pantyhose in every color, shiny socks, and more. For us, low-heeled shoes which make the style cute are the coolest piece of this style except for the hat of course! Parisiennes like to wear vintage pieces and unknown brands. They prefer timeless and basic pieces that suit her body. For these types of style inspiration, 10-yeared clothes can be the star pieces of your wardrobe. But for us, following trends and matching them with your style is the trick to keep alive your style. Afterward, we'll be talking about the 2020 style inspiration. How about to scroll down, up, and down while reading to make the perfect style for you! Then just scroll down until the second part.
Style Inspirations from Milan
Lasciatemi cantare, con la chitarra in mano… Lasciatemi cantare. Sono un Italiano!
Milan! Although some cities are known for being particularly fashionable, women from all over the world take it as style inspiration and create their personal styles. Milan is just one of these cities. The city is home to fancy brands like Armani, Dolce & Gabbana, and Versace. For sure the city has a rich resource for fashion with the brands and fashion weeks but Italian women on the streets know how to take advantage of them for style inspiration.
Don't be shy to show off your feminine side! It's hard to see masculine styles in Milan. Women in Milan love to wear dresses in strong colors and patterns like floral contrary to Parisien women. They're not afraid of using colors! Even if we all love minimal style inspiration and self-colored outfits, we're sure that, true matched pieces on the streets make our days! For Milan style inspiration, feminine fabrics that show your beauty and shape of your body are the best ways to have a strong silhouette. Thus, we see pencil skirts, waist-cinching outfits with these gorgeous fabrics on the streets. And here're some examples for you!
Street Style of London
London is extremely changeable and can never be set to one style.
London street style isn't a new phenomenon. We all keep following the royal fashion style every year. We've already known what royal family wore on weddings, events and even usual days. Also, if you're a Peaky Blinders fan, just like us, you see chic women and men. We're familiar royal fashion and 1920s fashion through the series in the UK and this is another style inspiration for us but how about to London street style inspiration? London's a place where you can wear your weirdest outfit in breakfast and it's also a place where you can be ultra-chic and businesslike in evening dinner. Whether you wear, no one will find you strange.
Londoners blend the old and the new. They also know how to express their individual personalities as well as the quirky spirit of London. Their styles are based on colorful pieces. Women in London love to wear their trench coats, blazers, brogues, tweeds but mixing with vibrant colors, trendy patterns. The result is an iconic look that is fearless yet timeless. Fashion weeks and streets give us a creative style inspiration. As we said they know how to mix the pieces. That's why we want to show that style inspiration for you! Match the trends and your personal tastes with and make a statement!
Style Inspiration From the Past Decades
The past is a perfect source of style inspiration for all women. I guess, we all say 'how a cute outfit, I've should live in this decade!' even once in our lives. Luckily we often see the '60s is back or return of the 80s!' trends on the market, but is it enough? Do we confine ourselves with them or get style inspiration from the eras without not wait that they'll become a trend again? I can hear a big NO! So here's style inspiration for who wants to be one step ahead!
The Look of the 1960s
Ahhh the 60s… We all watch the movies and adore the styles of Audrey Hepburn in the 60s. Instead of a passing trend, it's a decade where many fashion trends have been impressed by it that broke the fashion norms and traditions. It's a signature style inspiration for all fashion lovers. Silhouettes are also based on straight lines, waistless shifts, bell sleeves, mini outfits, pencils skirts, and more! The colors of black whites, neon, bold were blended in geometric patterns in materials like cotton, wool, in crochet technique.
Key fashion styles of the decade included mod, beatnik and hippie look. Mod fashion is a signature style that continues to be a style inspiration today. A-line silhouette mini dresses in bright colors have a big impact on women. We cannot talk about the 60s style without mentioning the beatnik style. Black turtlenecks and trousers, berets, and striped tops are the cool items for today's style inspiration. In the late 60s, the hippie counterculture was starting to raise and women got inspired by the spirit of freedom. Women had let their hair grow long and wore wild with wearing bell-bottom jeans, floral printed colorful shabby chic blouses.
Shift dresses and mini skirts! 1960s outfits become shorter and shorter. The women paired their outfits with sandals in summer and knee-high boots in winter. Colored tights were popular in colors of white, purple with lace. Rather than showing their skin naked, camouflage of their knee was the main aim of the women. The go-go boots become an item! We're all familiar to see white boots with new trends nowadays. These boots are an iconic 60s footwear style which is still very impactful. The women paired their accessorizes with colorful pieces of jewelry which are influenced by pop-art.
Who is the Fan of the 1970s, Girls?
The 70s fashion has created a host of style inspiration that continues to inspire today! Whether you realize they're from that time or not, the era keeps influencing the fashion through bright over-the-knee boots, printed dresses, velvet, corduroy, boho blouses, midi skirts and more. Skirts got shorter, boots got taller as all of us wish today! Although women were wearing pants in the sixties, they're not so common for all of them. By the time the 70s rolled around, women were wearing pants in every walk of life. The women weren't only content with pants at all but also got style inspiration from them and took suits, pantsuits, jumpsuits and tracksuits in their wardrobe.
Early 1970s fashion was similar to styles in the late 60s. Bright colors and flamboyant outfits that are created with polyester were the first things that caught eyes. Flowing skirt and pants were everywhere. As similar to the 60s, women were wearing very short skirts, dresses, and shorts. The beginning of the decade was the continuation of the hippie look. Women were wearing very tight-fitting pants, platform shoes, high cut boots and low cut pants. By the late 1970s the pantsuit, leisure suit, and tracksuit became the trends. Every woman had a cowl neck sweater in her wardrobe. Tunics, culottes, and robes were also very popular. It's hard to say which outfits were for home wearing, and which ones were for night-out. Keep scrolling to click through the 70s fashion trends that will give style inspiration to you!
1980s Style Inspiration
When it comes to '80s style, we all remember women who are doing sports on TV with neon-colored jumpsuits and volume of hair and of course Madonna and Princess Diana! Truth to say that everywhere reminds us to disco even streets in 80. The braveness in FashionActivation;) has been influencing all women. Influencers and celebrities are the major impacts that we take this style in our wardrobes again. Although we see the all look just in costume parties, now, we're familiar to see style inspiration in fashion weeks and showcases.
In the 1980s fashion, most of the things look a bit weird and maybe bad we can say. For example blue eyeshadow bad perms leg warmers, stirrup pants and underwear as outerwear… However, getting new terms and trends for style inspiration doesn't mean only true silhouettes and colors for both body and face. Some mistakes have been becoming corrects day by day. We're learning what we shouldn't do or how can we use them in cool ways. For instance, big shoulders with shoulder pads gave us a perfect style inspiration in new trends. Actually, these shoulders look not only to show the outfits larger but also to make them stronger and gorgeous. Although we called this as a mistake, it's a style inspiration from the 80s with neon, white jeans chain necklace, and pop-art accessorize!
Whether you're looking for '80s costume ideas for parties or you're interested in incorporating some of the decade's looks into your style, we aim to give a style inspiration through this article. Keep scrolling to see 2020 trends and make a brainstorm on how to dress with them in fresh ways. And also don't forget to get style inspiration from the 90s that we've not mentioned in this article from All About 90s Outfits.
2020 Style Inspirations
We've mentioned getting style inspiration from cities' women and the past that are very impactful on fashion trends. And now, we'll have a look 2020 trends. As you'll see the new trends are generally impressed by them and of course, some of them are just new! We've arranged some new trends from fashion weeks and outfits available in the market. Let's mix the new and the old and make the best timeless style, my up-to-date girls!
Color, Pattern, and Material
Polka dots… The classic print that will be around forever through dresses, blouses, even socks… Polka dots are one of the timeless patterns for those who don't like mixed patterns. It suits both daytime and night-out outfits. If you want to get style inspiration from cities' fashions, for us, a Parisien style black-white dress with red lipstick and a red hat will turn all the heads on the streets. Also, don't forget to get some new styles of outfits from the market!
Half & Half is the new style inspiration from 2020 trends. However, we're familiar with this trend from the 1990s! Just remember when you exchange your red converse's one shoe of a pair with your friend's blue one. Thankfully fashion designers make it for us! Two-toned dresses which separated in the middle with colors, cardigans and even pants are the trend now!
Leather for every weather! We all have a leather jacket for cold days but how about other weathers in different styles? Leather is a strong and gorgeous material that makes the outfits look fancy. No doubt, it becomes a good style inspiration for fashion designers. Thus we see the material much more than before. In 2020, we'll see it with dresses, skirts, blazers!
And the color inspirations of the year, fluoro pink, orange, green, and yellow! Instead of using neon accessorizes, highlighter-inspired neon outfits will cover our bodies. If you're not interested in these fluorescent colors, just remember the past style inspiration. Keep simple your outfit and wear big neon accessorize.
We're a real fan of pleats! The pleats are one of the best ways to create chic and adorable styles and we're all in! Let them sway with the wind on the streets and of course, dance floor!
Style Inspiration that will Turn All Heads on You!
Bermuda Shorts! If you get bored to wear pants whole winter but you want to keep your classic style, bermuda shorts are new souls of style inspiration. Besides they complete your boss lady look, they're also fun! Unless you're a super leggy, the length of bermuda shorts may stunt your height. Pair them with sandals or high-heels. There're also suits available on the market, don't miss them!
Bra Tops! Get rid of your crop tops, bra tops have officially entered the party. Just add a high-waisted skirt and pair them with big fancy accessories, you're ready to nights out! If you want to move this trend the street, you can match your bra tops with a coat and a high-waisted anything. Don't forget to get style inspiration from the cities' women!
Puffy Sleeves, the most romantic style inspiration to create ultra-feminine looks! We'll see these types of sleeves in blouses and dresses in 2020 as we mentioned in the previous article. So, when you just need a little extra romance in your life, let naked your shoulders and adorn them with puffy sleeves…
Cardigans are back! If they remind your old school days when you've heard them, you're wrong! They're just old days which are passed but bring style inspiration to you. Do up just a few buttons of your cardigans and wear it as a decollete blouse!
Midi and Maxi Denim Skirts… We've talked about midi skirts for work in the previous article and we all have mini denim skirts in our wardrobes. So give a place midi and maxi denim skirts now! Also, don'90s denim skirts t forget to glance at 90s denim skirts to get style inspiration!
Be a Style Inspiration!
Billowy Dresses! Voluminous maxi dresses are about to be absolutely everywhere! The weather is getting hotter day by day and we've started to refresh our summer wardrobes with new styles. Billowy dresses will wave like the sea on vacation dinners as a pretty outfit. Just pair them with cute sandals!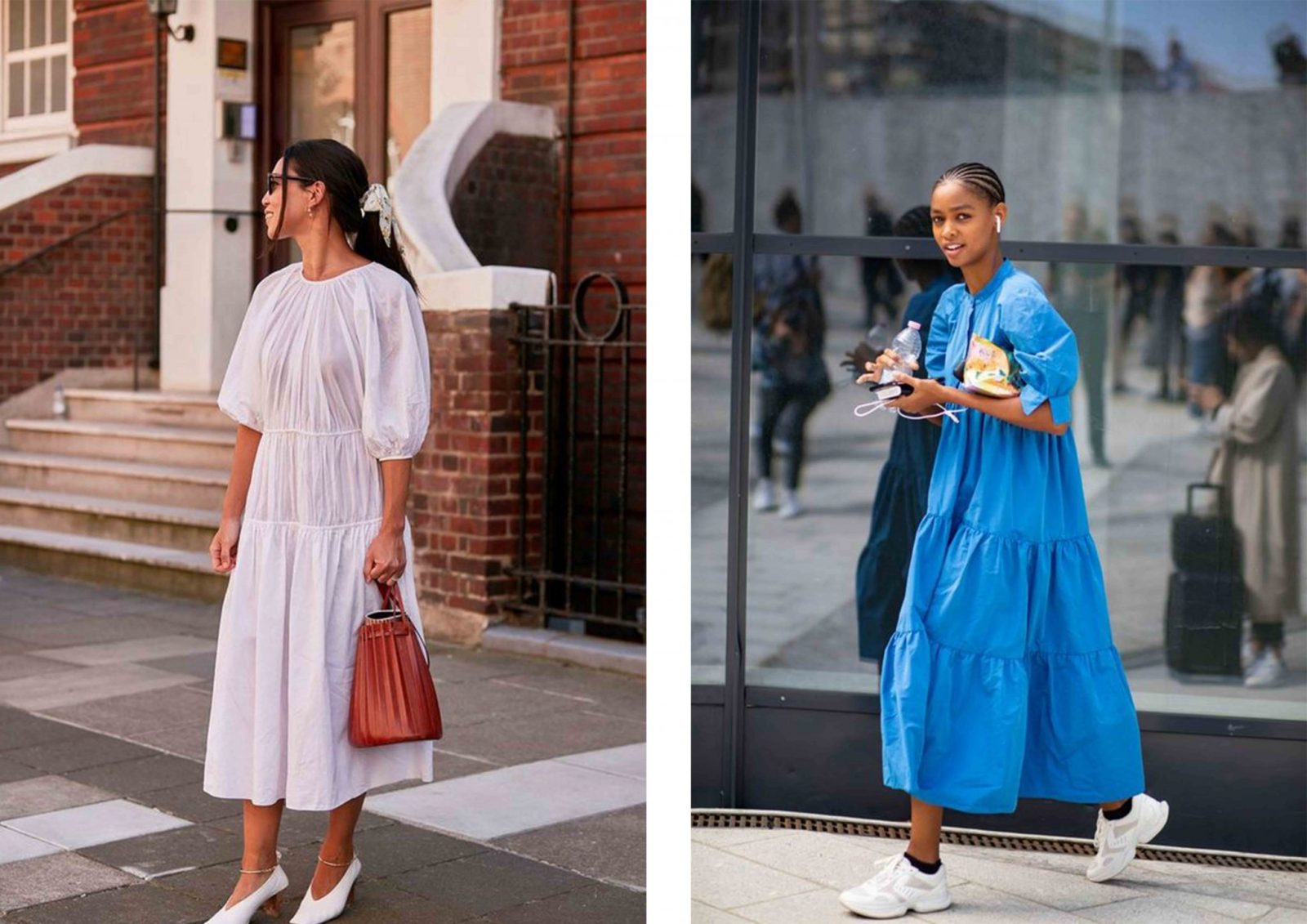 Time to steal your boyfriend's blazers, oversized blazers are the trend now! Either you're going to work or walking around with your friends, oversized blazers will add a remarkable signature on you and your style will be noticed at first glance. Don't forget to get style inspiration from the 70s and mix your style with the first examples of these masculine styles!
Knit maxi dresses, a striking trend for a feminine look! These sheath dresses are one of the best ways to look both chic and sexy. Besides, the dresses are nice options for dinner, they're also suitable for vacations. Wear it with boots or over jeans as 90s style inspiration. Let show the beauty of your body, girls!
Two trends in one? Yes, please. We've already had a lot of jumpsuits in our wardrobes as they're trend in 2019 too. Give a chance to leather jumpsuits in this spring! They're a large scale of materials and colors are available now and we think that you don't want to miss that!
Trench coats… We've been wearing trench coats as you can notice from other eras and trends for years. In addition to classic ones, there're plenty of new trench coats in various forms, colors and even patterns now. These new and improved pieces are for those who get bored to wear classic trench coats or want to add more star pieces on their wardrobes. The animal print and geometrical patterns look super cool and impressive!
You can find another style inspiration here. You can also watch the video to find your style from the link. I love Hailey Bieber outfit ideas.
Don't forget that girls, trends are all come out in the wash, but the style remains! See you in the next article…
Stay Stylish!