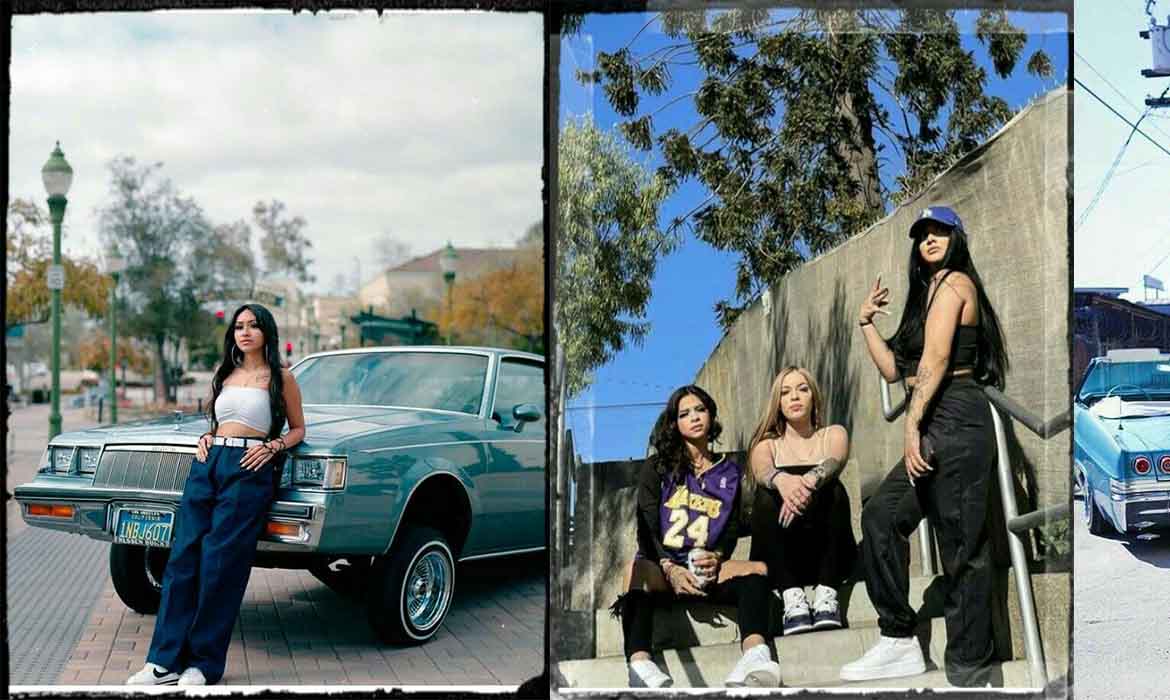 How about re-learning the Chola outfit that took the storm in the nineties? This article is for you if you want to be inspired by this tremendous authentic style. In this article, we will see how to create a Chola outfit. Also, you will add color to your style by visiting the next generation Chola style interpretations. First, let's learn together what the Chola style is!
What is Chola Style?
The members of the group who have specific clothing and lifestyle of Chicano and Latino members from the Mexican American subculture are called Cholo. It originated in Los Angeles. Chola is the feminine version of the name Cholo. Traditionally, "Chola style" elements belonged to a specific subculture of first- and second-generation Mexican Americans influenced by hip-hop and sometimes associated with gangs.
The Chola look's essentials include dark lip liner with lighter lipstick, cat-eye sunglasses, gold chains with crosses, large medals, baggy and long pants, bandanas, etc. Of course, in addition to all these, other pieces also maintain their importance in the Chola style. So in this article, I will talk about the essentials of the Chola style and some of its modern interpretations. I hope it will be inspiring for you. Let's start!
Building a Chola Outfit
The Chola style is not just about clothing. It generally includes a common worldview, lifestyle, and behavior. As for the clothing style, it is possible to say that it is a style that is original and represents a lifestyle. While creating the Chola style, there are indispensable elements you need. Some of these pieces still influence other styles, and some are entirely unique to the Chola outfits.
Start Creating Your Chola Outfit with a Crop Top
Crop tops are one of the most used elements of fashion these days. Besides, this favorite piece is one of the indispensable parts of the Chola outfit. Also, it is a savior piece as it is preferred over long-leg trousers. This way, it can become a top easily used by overweight women. Because, when worn on long legs and a high waist, it shows the body in proper proportion. Also, you can add this trending piece to your style. Here, I found basic crop tops that you might like.
In the Chola style, mostly white crop tops are using. Moreover, bra straps, worn inside halter-neck crop tops, are visibly accessorizing. These white crop tops, selected over light-colored fabric trousers, resemble an undershirt and look stylish.
Bandana is a Good Idea for Chola Outfits
Tops made of a bandana, one of the most fashionable pieces of recent times, are inspired by the Chola style. Bandanas in the Chola outfit are using as a hair accessory for a top outfit look. This creative and stylish design is an essential part of the Chola style. Tie-dye bandanas are in classic bandana patterns or flame patterns. Also, you can use chic tie-dye bandana tops for your outfit. They are stylish. Here I found a tie-dye bandana top for your outfit. Of course, the pattern that I call classic has become a classic with the Chola style. Also, religious figures are frequently used in the Chola style. Jesus and Virgin Mary images, which are generally using on top clothes, add an original atmosphere to this style.
Overalls for Chola Outfit
Overalls were a fashion that scorched the 90s. The 90s Chola style was also influenced by this trend. This style, which is the fashion of neighborhood life, contains great overalls in its content. Besides, in my previous article, I made a detailed review of 90s overalls. If interested, you could visit our site from this link and check out more of our articles!
Chola Outfit with Jersey
The Chola outfit, heavily influenced by basketball and hip-hop, includes strong associations and traditions. We often come across a Chola-style basketball jersey. The jerseys of close neighborhood teams are mainly preferring as daily top clothes. These jerseys, selected as oversize. And are also frequently using in today's fashion. For example, Rihanna often includes basketball tops in her daily wear.
Oversize T-shirt
Oversized t-shirts are one of the indispensable parts of both cholo outfits and Chola styles. These oversized t-shirts are usually printed on and preferring in white and worn with low waist trousers. For example, while oversized t-shirts are generally preferring by men as cholo outfit, women often include oversized lumberjack shirts in their styles. And they usually combine these shirts, which look 3-4 sizes larger than their own size, with crop tops.
Corduroy with Belt
It's hard to imagine a Chola without a belt. Black belts, preferring with loose fabric trousers, are indispensable for the Chola outfit. These belts, usually with iron buckles, are preferring in contrasting colors with trousers. And also, they are bringing to the fore in combination. In addition, these belts are slightly longer and hang from the front to create an appearance. Also, in Chola outfit, suspenders are as crucial as belts. In this way, an original look is achieving by fixing these trousers, which are usually large in size, with suspenders.
Large Hoop Earrings
One of the most important works of the Chola outfit is its accessories. Among these accessories, the most unique part of the Chola outfit is the large hoop earrings. Chola's style has influenced many fashions with these hoop earrings. These large hoop earrings, compatible with the hairstyle, create a feminine look. As we mentioned, the Chola outfit has eye-catching pieces influencing many types. Furthermore, we will continue to talk about make-up and accessories among them. Also, if you want more information and look at the examples, you may find another comprehensive article on this blog interesting.
Hip-Hop Pendant
The Chola outfit has its own unique accessories. The first of these were large hoop earrings. Another is a Hip-hop pendant. These necklaces are usually using short, close to the neck. Additionally, olosften gold-colored accessories are preferred. These necklaces using with various iconic words. And also, they are in a unique font. With all this, it's a hip-hop style. These vintage necklaces are back in fashion now. If you want to include these necklaces in your style, you can look at this Hip-hop Pendant I found for you.
Chola Outfit Makeup Suggestion 1:Long Eyeliner
If you're wearing a Chola outfit, your style cannot be complete without eyeliner. This utterly unique eye make-up is the representation of the Chola style. The long eyeliner, previously preferred with the skinny eyebrow style, gives the eyes a cat-eye look. Light-colored headlights are selecting to complete the cat eye make-up.
Nowadays, it is combined with colorful eyeshadows that are in fashion. I think it looks fantastic with these bright eyeshadows! We mentioned that the Chola style feeds today's fashion. The best representative of this style nowadays is Alexa Demie. She's an icon with gorgeous eye make-up. She is frequently mentioned for her successful acting and fashion. In this video, she gives us the secrets of 90s make-up. If you're interested, I recommend watching it.
Chola Outfit Makeup Suggestion 2: Dark Lipliner and Lipstick
Although dark lip liner is not preferring much nowadays, it was one of the symbols of the 90s Chola style. Dark lip liner adds an attractive look to make-up. In addition, it is possible to highlight the lip by applying lip gloss to it.
Acrylic Nails
Finally, acrylic nails are trendy in today's fashion. It is possible to have the pattern you want on long nails. Depending on the style, sometimes clean-looking nails are chic. And occasionally remarkable designs look eye-catching. Acrylic nails in the 90s Chola style were very fashionable. These long nails were using as fake nails in those times and also they were especially preferring with long and dark-colored nail polishes. Nowadays, it is building as a prosthesis and designing in many patterns.
Stay Stylish!
References for the Images
1, 2, 3, 4, 5, 6, 7, 8, 9, 10, 11, 12, 13, 14, 15, 16, 17, 18, 19, 20, 21, 22, 23, 24, 25, 26, 27, 28, 29, 30, 31