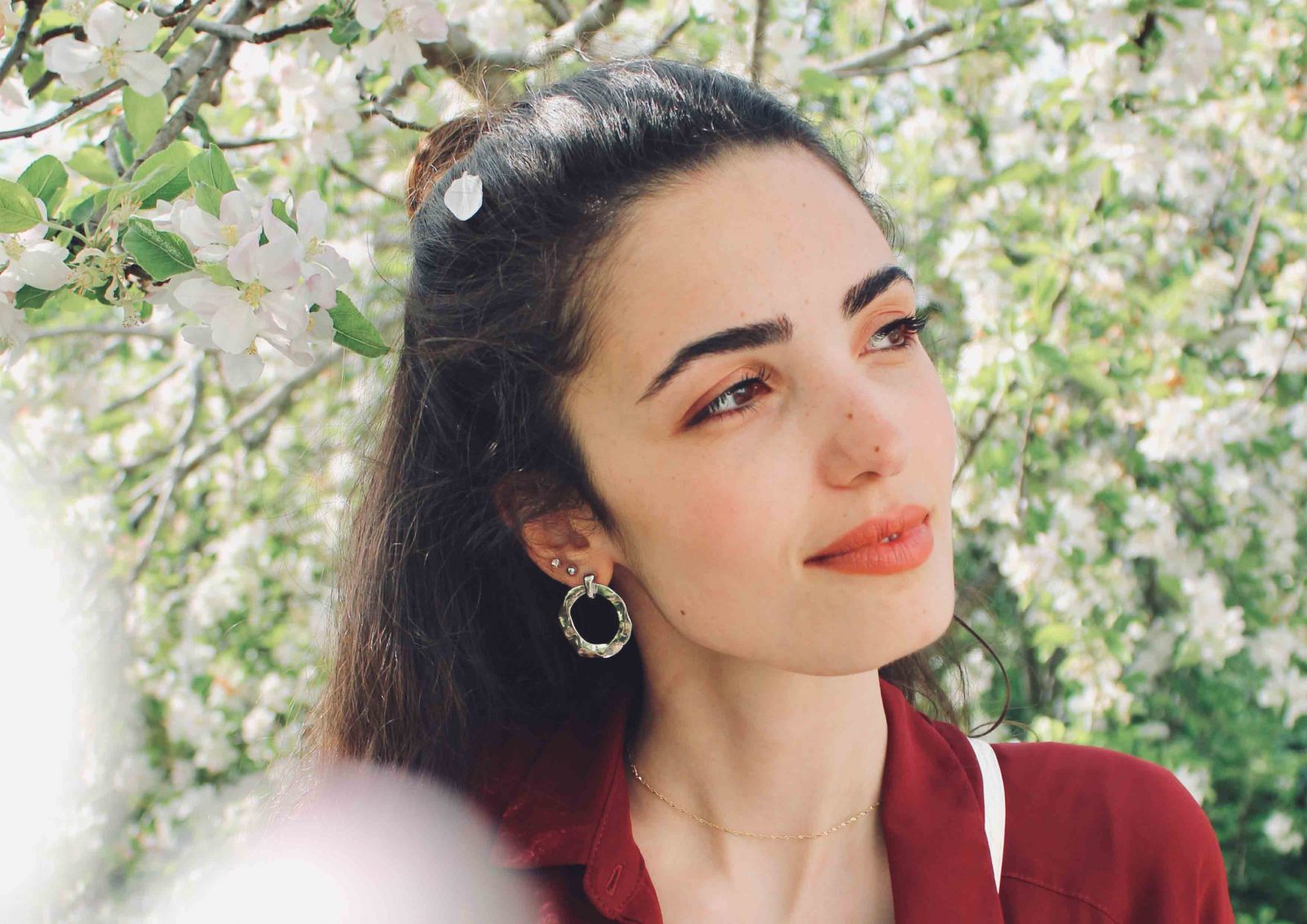 Finally sweet summer arrived! Like everything change in summer, our makeup style also changes. We started to prefer shimmery and natural colors instead of dark and dense makeup applications. The dark smoky eyes are gone, so it's time for shimmery and bright, natural makeup looks. That's why I'm going to share one of my favorite natural makeup look with you. This makeup look contains soft pink tones and generally shimmery products. Furthermore, some of these products are my indispensable ones. I'm gonna share them with you. If you are ready let's start with first step!
After reading this article, you should visit our Makeup Category to reach more trendy makeup looks of this year!
STEP 1 – GARNIER BB CREAM
Because of the hot weather, generally we don't prefer to apply lots of makeup products to our faces. We try to make it optimum. So, I don't prefer to use a thick and full coverage foundation. Instead of it, I prefer to use a BB cream. You can pick it from any brand you like, however garnier is a good option. I think that, it equals my skin tone and gives moisture at the same time. Finally, it gives a wet finish and I like this natural makeup look in summer days. I don't prefer to make my skin looks really matte and unhealthy.
Usually, I prefer to apply it with makeup sponge. If I want a wet and natural finish, I generally wet my sponge however, If I use this Garnier BB cream I don't need to wet my sponge. Because it has already a wet and natural texture so I don't want to disrupt it. As I said before, I don't like full coverage and matte face looks. Thus, I apply it as a very thin layer because I like my freckles!
STEP 2 – NATURAL MAKEUP LOOK WITH THE BALM CONCEALER
I must say this, if you don't have dark circles, please pass this step! Because, minimum product means the most natural makeup looks. Unfortunately, I have a little bit. So I need to cover them before I go out.
This concealer is the best one I have ever used. It has a thin but well coverage texture so it's my favorite concealer. I apply this concealer with my makeup sponge, however before the aplication I wet it a little bit. So it gives a wet and natural makeup look to me.
I don't prefer to whiten my under eyes skin so much. Because I think very light and white under eye skins looks a little bit unnatural. Therefore, I prefer one tone darker from my skin. My concealer's color is mid-medium and it really fits me!
Furthermore, this product has a long expiration date. I've been using it since last year. You can use it up to 24 months after you open its package.
STEP 3 – GOLDEN ROSE METALLIC LIQUID EYESHADOW
This liquid and metallic eyeshadow is the star of this natural makeup look. I bought it 5 days ago and I really like it! It has lots of different colors and all of them are suitable for the summer days. I bought only one, but I really wonder other tones!
I love pinky tones very much so I bought '104 Sun Kiss'. Firstly, I apply it with its own application. Then blend it with a clean blending brush to my eyelid. It is really easy to apply and blend, because it doesn't have a sticky texture. After a few seconds, it dryes up but it looks always wet and shimmery. I really like it and I don't need anything more on it. It is fast and superb!
I think I'm gonna use these liquid eyeshadows very much this summer. Because its application is really fast, you don't need to spend lots of time in front of the mirror to get shimmery and showy looks. It is really practical and perfect. I definitely suggest you to buy it!
STEP 4 – NATURAL MAKEUP LOOK WITH FARMASI MAGIC PEARLS POWDER BLUSHER
If you have white skin tone like me, pinky blushers can suits you very well! I generally don't prefer to use very pinky or unnatural colors as a blusher. However, a tiny bit pink blusher can give you very natural makeup look. Additionally, it makes you look much healthier. That's why we love to use blushers everyday!
This Farmasi Blusher contains shimmery and pinky pearls so when you apply it to your cheeks, they look a little bit shiny and pinky at the same time. So, you don't need to apply extra highlighter on it but of course we are going to apply it! I prefer to apply it with angled blusher brush. It has really pigmented pearls, so it is pretty enough to get a little bit on your brush. Additionally, it has perfect scent. I can say that, this blusher is my favorite one for summer days!
STEP 5 – THE BALM HIGHLIGHTER
We love shimmer so much so I think that, it is a must to apply a highlighter on every makeup. This Balm highlighter is a good option for white skin tones. It is really pigmented and shimmery so you shouldn't apply it too much. Just get a little bit on your brush and apply it to your cheekbones. When you are going to apply it in mornings be careful about it! It may cause a very shimmery and unnatural look.
STEP 6 – LOREAL PARIS PARADISE MASCARA
For summer days, you can prefer a natural colored mascara but I have dark black lashes so I prefer to use a black one. This Loreal Paris Paradise mascara makes my lashes very volumed and long, so I like this mascara. However, it has one bad way. It dries very fast so I can't use this mascara for long time.
STEP 7 – NATURAL MAKEUP LOOK WITH PASTEL CHOCOLATE ROUGE
One of my favorite makeup product is this perfect colored rouge. Actually, the reason that I like this rouge very much is its suitable color to my lips. I think that every woman has her own lip color and if she find that color as a rouge, that rouge can be the best one for her face. Because it gives you the best natural makeup look and also you can use it with your everday makeup.
My favorite one is this Pastel Chocolate 553. Who saw this rouge on my lips, liked it very much and bought one for themselves but they didn't like it on their face. The reason is, this color is not their natural lip color. As I said before, you should find your original lip color!
This rouge is very suitable with this metallic eyeshadow and also this Farmasi blusher so I prefer to use it for this natural makeup look. You can easily find this kind of natural colors from different brands like Maybelline New York.
I hope you like this natural makeup look girls! Wanted to share my favorite makeup products and also my opinions with you. Hope you get an idea about them.
If you want to see more about my daily makeup and lifestyle you can also follow me on Instagram!
See you at the next article!