I am here with the soft summer color palette! In the summer season, we love to dress up in colorful outfits. We try every color and shade. But pastel tones always have a special place in summer. People who shop for summer clothes choose pieces that reflect the season. These piece selections highlight the comfort and fashion of summer. A soft summer color palette is one of the most popular fashion trends women are interested in this season. Soft summer color palette, combined with bohemian style, are preferred in both clothing and accessories. For example, soft color low-cut shirts paired with ecru-cropped pants are one of the season's most comfortable and stylish looks. Accessories offered for women who want to stand out in their style include straw bags and hats. Let's take a look at those and more!
Seasonal Color Analysis
An individual's skin tone, eye color, and hair color should all be considered while choosing clothing and makeup colors. This is known as "seasonal color analysis." Based on their general coloring and the warm or cold undertones of their skin, the seasonal color analysis typically divides people into one of four "seasons". (Spring, Summer, Autumn, or Winter)
The spectrum of hues appropriate for each season depends on the undertones and coloring of the wearer. A person can dress and apply makeup in hues that will accentuate their inherent attractiveness and make them appear their best by knowing the season they are in.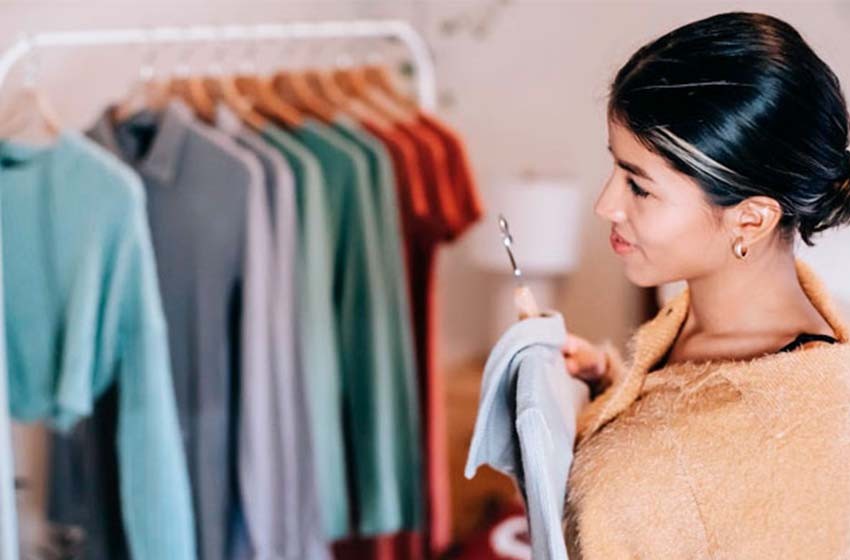 Seasonal color analysis typically begins with a consultation with a qualified expert who evaluates the person's skin tone, eye color, and hair color. They will utilize color swatches and other techniques to establish which season the wearer belongs in, after which they will offer advice on which hues to wear and which to stay away from. Of course, there are websites that do this easily. You can take the test by going to one of these websites and learn your own color palette. Or you can find out what undertone your skin has by putting different colored fabrics on it, as in some videos you see on the internet. Of course, the colorful fabric bundles required for this are available on Amazon.
What is Soft Summer Color Palette?
Soft Summer Color Palette: Now that the weather is getting warmer, it's time to update your wardrobe with soft summer colors. The cool, subdued hues of the soft summer palette are well-known for perfectly fitting the season. Also, from debris blonde to delicate summer hair orange, there are various hair colors for everybody. Get ready to explore those colors!
Delicate summer colors are calm and quiet shades commonly related to summer. These colors regularly have an unpretentious and downplayed quality, which makes them perfect for keeping loose and alleviating air. A few standard delicate summer colors incorporate pale blue, lavender, dusty rose, soft gray, sage green, periwinkle, mauve, and quiet shades of pink, green, and blue. These colors can be utilized in clothing, domestic stylistic layout, and other plan applications to create a peaceful and calming environment.
The cool-tone, mute hues of the soft summer palette reflect the season's subtle beauty. These hues typically have a slight gray or blue undertone. They generally are quieter than the vibrant spring and summer hues. Dusty pinks, mauves, soft blues, grays, and greens are essential colors in the soft summer palette.
The fact that the soft summer color pallette looks good on a wide range of skin tones and eye colors is why it is so popular. If you have cool-conditioned skin, delicate summer varieties will draw out the best in your composition and give you a discreet, modern look.
Additionally, you can still incorporate soft summer colour into your wardrobe by selecting shades with a cool undertone, such as cool blues and greens, even if your skin tone is warmer.
Pantone 2023 Summer Color Palette
Pantone Color Institute has announced the colors that will dominate the runways and streets this year. From eye-catching bright colors to soothing pastels, this color palette with two opposite ends reflects the new era we are in and the process we have been going through for the past few years. These colors, which mirror our latest concepts of freedom, new quests, and excitement that have emerged with the changing world after the pandemic, are represented by bright and calming tones. According to the Pantone Color Institute, "there are tones that represent the joy of life that emerges when we try our luck and enjoy this new sense of freedom. Contrasting color tones symbolize the need to express ourselves in new and exciting ways."
The energy of bright pinks, blues, reds, and greens that make our hearts skip a beat just by looking at them represent the excitement of new beginnings. In contrast, pastel blues, greens, and earth tones reflect the need for serenity, calmness, tranquility, and peace. Pantone's colors for summer 2023 include:
Fiery Red, Pantone 18-1664
Beetroot Purple, Pantone 18-2143
Tangelo, Pantone 15-1335
Peach Pink, Pantone 15-1530
Empire Yellow, Pantone 14-0756
Crystal Rose, Pantone 12-1708
Classic Green, Pantone 16-6340
Love Bird, Pantone 13-0443
Blue Perennial, Pantone 16-4036
Summer Song, Pantone 14-4316
Macchiato, Pantone 17-1221
Leek Green, Pantone 15-0628
Gray Lilac, Pantone 13-3804
Vanilla Cream, Pantone 12-1009
Skylight, Pantone 12-4604
Creating Your Capsule Wardrobe with Soft Summer Color Palette
With a soft summer color palette, a capsule wardrobe should be versatile and cohesive. Focusing on high-quality pieces that can be combined to make a variety of outfits. To create a comfortable summer capsule wardrobe, follow these guidelines:
1. Start with light neutrals. As previously mentioned, your soft summer wardrobe should be based on light neutrals like ivory, gray, and beige. These colors are versatile and serve as a neutral backdrop for outfits.
2. Include summery hues. Add soft summer colors like dusty pinks, pale blues, and mute greens once your neutral pieces are in place. Pick a couple of critical elements in each tone to change up your closet.
3. Concentrate on fabrics and textures. Because summer colors are typically mute and soft, adding interest through textures and materials can be a great way to give your outfits depth and dimension. Look for pieces made of lightweight wool, hammer surfaces, or brush matte satin.
4. Choose versatile pieces. Selecting pieces that can be worn in various ways when making a capsule wardrobe is essential. Find items that can be dressed up or down, such as comfortable jeans, a tailor blazer, or a classic trench coat.
5. Simpler is better. Creating a streamline, straightforward wardrobe that makes dressing simple is the objective of a capsule wardrobe. Stick to exemplary, ageless pieces that will remain popular. Stay away from patterns that may not stand the test of time.
Following these recommendations, you can create a cohesive, versatile, and simple-to-wear soft summer capsule wardrobe. Remember that the most important thing is to select high-quality items that can be combine to create a variety of outfits; therefore, invest in pieces that you adore, which will last for many years.
Styling with Soft Summer Color Palette Clothes
On the off chance that you're hoping to construct a delicate summer closet, there are a couple of critical staples that you should consider. To begin, you should invest in light neutrals, such as beige, gray, and ivory, which will be the foundation for your soft summer wardrobe. You can assemble a wide range of outfits with just a few critical pieces because these colors are versatile and easy to mix and match.
Additionally, you'll want to incorporate mute greens, dusty pinks, and soft blues into your wardrobe. These colors will add a subtle pop of color to your outfits without being overpowering. Also, remember to explore different avenues regarding surfaces and textures, such as brushed matte silk and pounde covers, which can add profundity and interest to your outfits.
Tops
In the summer months, many people choose comfortable and visually stylish pieces. Women who want to stand out in their style with soft colors tend to choose low-cut blouses. These pieces, designed in baby blue and powder tones, are presented in short and long balloon sleeves. These pieces, which have taken their place in the showcases, are among the main products of the season. In this season, where soft colors are emphasized, dress fashion is also revitalized. Pieces designed with shirt fabrics add a different atmosphere to the season.
Mix warm-toned accessories or pieces with your soft summer staples to incorporate soft autumn colors into your true summer wardrobe. You could, for instance, wear a mute green dress with a burnt orange scarf or a silky blue blouse with a warm brown skirt. To avoid overpowering the soft summer palette, ensure the overall look is sophisticated and subtle.
Delicate summer colors regularly incorporate pastel shades of cool tones, such as light blue, lavender, mint green, and pale pink. In a perfect world, tops in these colors have a lightweight and flowy texture, such as chiffon or cotton, and may be styled as loose-fitting shirts, edit tops, or tanks. Off-the-shoulder tops or tops with soft color details complement these delicate summer colors. The key is to prioritize consolation and breathability in hotter climates while grasping the light and breezy stylish of the season.
Bottoms
The cool tones of winter and the warm tones of autumn make up the soft summer. This means you can softly and subtly incorporate aspects of both seasons into your wardrobe. Think brushed matte satin and hammered texture, which gives a soft summer wardrobe an air of luxury without being overpowering. The soft summer color palette is typically associated with cool-toned hues. Still, you can also incorporate some warm, soft autumn colors into your dull summer wardrobe. Incorporating Soft Autumn Colors into the Soft Summer Palette when paired with soft summer colors, warm browns, burnt oranges, and mute yellows all work well to create a warm and subtle look.
When pairing bottoms with soft summer colors, it's essential to remember the overall look you're trying to achieve. Light denim or khaki shorts, capris pants, or cropped pants can work for a casual look during the day. Fluffy skirts in soft pastel tones are also an excellent choice for a feminine touch. For more formal occasions, choose high-waisted pants or a midi skirt in a neutral color like white, beige, or light gray. Pair these soothing colors with soft pants or patterned items, such as floral skirts or striped pants, for a bolder look. Ultimately, it's about finding the right balance and creating a cohesive look that complements your personal style.
Accessories
Start by incorporating some critical colors into your wardrobe to embrace the soft summer color palette. You can mix and match shades of pink, gray, blue, green, and other soft summer colors to create a cohesive look. You can also incorporate ash brown and mute oranges from the soft summer palette. Giving you even more options to experiment with.
When we think of summer, one of the first items that come to mind is straw hats and bags. Straw bags are accessories that offer the opportunity to create fun combinations with the trend of basket bags. Those are popular in summer. Straw bags provide a consistent look for all outfits made. Also, using a straw hat on top of companies or at the seaside will be one of the prominent details for the summer season. Tying a ribbon from the edge of the cap brings a vintage look back to the season.
Soft Summer Hairstyles
Think cool and mute shades when considering summer hairstyles. Ash blonde is an excellent example of this because its slight coolness goes well with the muted summer palette. Consider a bright spring orange if you want something a little bit bolder with your skin eyes and hair. This is a great way to give your hair color some personality while still staying within the soft summer palette.
To achieve a relaxed and understated look that complements the soft summer color palette, you should style your true black hair in a delicate manner. Suppose you usually have cool-conditioned hair, like debris blonde or light brown. In that case, you're approaching the ideal delicate summer hair tone. However, if your hair has a warmer tone, you should make some changes to get the look you want.
A cool-toned blonde shade like platinum or icy blonde is one option for soft summer hair. You'll have a calm, sophisticated look with these colors that go well with light summer colors. Another choice is adding a few cool-conditioned features or lowlights to your hair, which can offset hotter tones and make a more natural look.
Soft Summer Skin
The fact that the soft summer color palette complements a wide range of skin tones, eye colors, and hair types is one of its outstanding qualities. Soft summer colors will bring out the best in your complexion, regardless of whether your features have a medium contrast or a highly contrasting. Neutral cool with ashy undertones is a popular choice for people with cool skin, but all skin tones can wear soft summer staples like light neutrals.
In conclusion, you can easily embrace the subtle and cool hues of the season by using the soft summer color palette. Some colors work well for everyone, from summer hair to starkly different features. Your soft summer wardrobe can be both luxurious and versatile with brushed matte satin, hammered textures, and a mix of soft summer sits and soft autumn colors. Therefore, now is the time to experiment with these stunning hues and embrace the soft summer color palette!
Stay Stylish!
References for the Images
1, 2, 3, 4, 5, 6, 7, 8, 9, 10, 11, 12, 13, 14, 15, 16, 17, 18, 19, 20, 21, 22, 23, 24