Recently we learned that Rihanna, one of the most iconic singers, is pregnant. The Rihanna pregnant new, expecting her first child from rapper ASAP Rocky, dropped like a bomb! As well as the nature of the new, her pregnant style is much talked about in the ongoing time.
Even her current pregnant style surprised many people; while her style does not surprise me at all, I was also impressed by her gorgeous pregnancy style. First, let's look together with her iconic style and then her revolutionary pregnancy outfits!
Contemporary Style of Fashion Mogul
In the first month of her pregnancy, she has successfully concealed her pregnancy with oversized jackets and thick clothes. Even in these times, she has stylish choices to cover her growing belly. In this part of the article, let's see what she was wearing before she showed off her baby bump.
Diamonds singer fashion mogul Rihanna has always been iconic with her style and music. She has succeeded in making herself known with both her red carpet outfit choices and the clothes she prefers in her daily life. With her iconic style that makes an indelible impression, she wears well the designs of famous brands and becomes a source of inspiration for fashion. Not just the clothes that she wears, also her hairstyle and accessories became popular in the fashion area. One of my favorite look from Rihanna is that 2019 Bet Awards leather pants outfit. All black leather outfit is absolutely timeless and elegant.
As you can see she likes to wear fur coat too and match it with colorful scarves. Scarfs that she used in her unique way hats that she used had been an inspiration to all. If you want to complete your outfit with a stylish headscarf like Rihanna, I leave a beautiful headscarf here. Also, here I linked furry bucket hats just like Rihanna's. And finally I must say that, her denim on denim look with a halter top inside is such a timeless look.
Let's check the details of her outfits. I absolutely fell in love pregnant Rihanna Style. Especially the pink coat and ripped jeans outfit. Everybody celebrate Fenty Beauty at Goya Studios in Los Angeles and Rihanna was there with a gorgous green outfit which you can see from the photo below.
The First "Rihanna Pregnant" New
While we are all waiting for her new album, we get the news that Rihanna is pregnant from her post shared via Instagram. The first time, we saw her grown tomb in this post. The first photo has sparked her controversial, as well as iconic, pregnancy style.
Rihanna perfectly reflects the prosperous, free, and sexy female model in her own music career. She made a difference in the cosmetic world by producing a wide variety of products, especially for different skin colors, with the Fenty Beauty cosmetic brand she founded in 2017. In addition, with the Savage X Fenty laundry brand that she founded in 2018, with products designed for all genders emphasizing self-confidence and inclusivity, she became one of the most prominent representatives of self-confidence. Here I linked a beautiful Savage X Fenty bra with a wide range of sizes. You can check other products here via Amazon. I really like them!
High-Profile Rihanna Pregnant Style
Rihanna, who went against the usual with her pregnancy style just as in almost every stage of her career, made fantastic combinations in this process. In fact, she states that she chooses these outfits to rise against the idea that attractiveness is lost during pregnancy, which is why I consider her pregnancy style as a revolutionary act. I think with all these sexy clothes, she succeeds it too. Let's look together at what she prefers to wear in her magnificent pregnancy process! I think it's a good idea to get inspired by her style as an attractive mom.
Rihanna Pregnant Style: Belly Accessories
In her usual style, she prefers accessories in her characteristic way. In her pregnancy style, she uses belly accessories commonly. First, we saw long medallion-type necklaces that belly up. Also, she uses belly chains to adorn her growing belly instead of covering it. Despite the winter weather, she does not hesitate to show her beautiful belly, even highlighting it with accessories. I like the way she uses belly accessories in this process.
Vivid Colors
Mostly, women prefer to wear pastel or dark colors during pregnancy. It can be an excellent choice to hide excess weight. But the fashion queen Rihanna commonly uses vivid colors in her outfits; neon pinks, reds, oranges. She prefers bright colors martially during pregnancy, just as she had chosen before pregnancy.
Eye-Catching Clothes
With the growing pregnancy trend, we became familiar with the recent moms that are normalizing breastfeeding photos, using pregnant tummy in album covers, etc. Furthermore, Rihanna supported pregnancy fashion with her style due to these revolutionary trends. Incredibly, she includes the pregnancy process to crop trends. Also, she prefers to leave her jacket open with her tummy. Additionally, she uses transparent tulle detailed tops or crop top which embellish her pregnant belly.
Recently, she joined the Paris Fashion Week and dazzled everybody. She opted for a black lace dress reminiscent of Fenty X Savage underwear outfits. She completed her elegance with the accessories she preferred over her half-naked dress. Also, she wore a long leather jacket, which is very fashionable nowadays. I think, after her pregnancy style in Paris Fashion Week 2022, we will start to see the effects of Rihanna pregnant style in the fashion area. Moreover, if you are interested in Fashion Week in Paris, you can visit our previous article to see trends, street styles, and more.
Celebrity Pregnancy Styles
After examining Rihanna's pregnancy style by comparing, let's now look together at what other celebrities have style during their pregnancy.
First, we saw Beyoncé's bold pregnancy style that she commonly used in her music projects. She was one of the magnificent moms in her pregnancy. Here is Beyoncé's iconic Grammy performance with her great pregnancy look.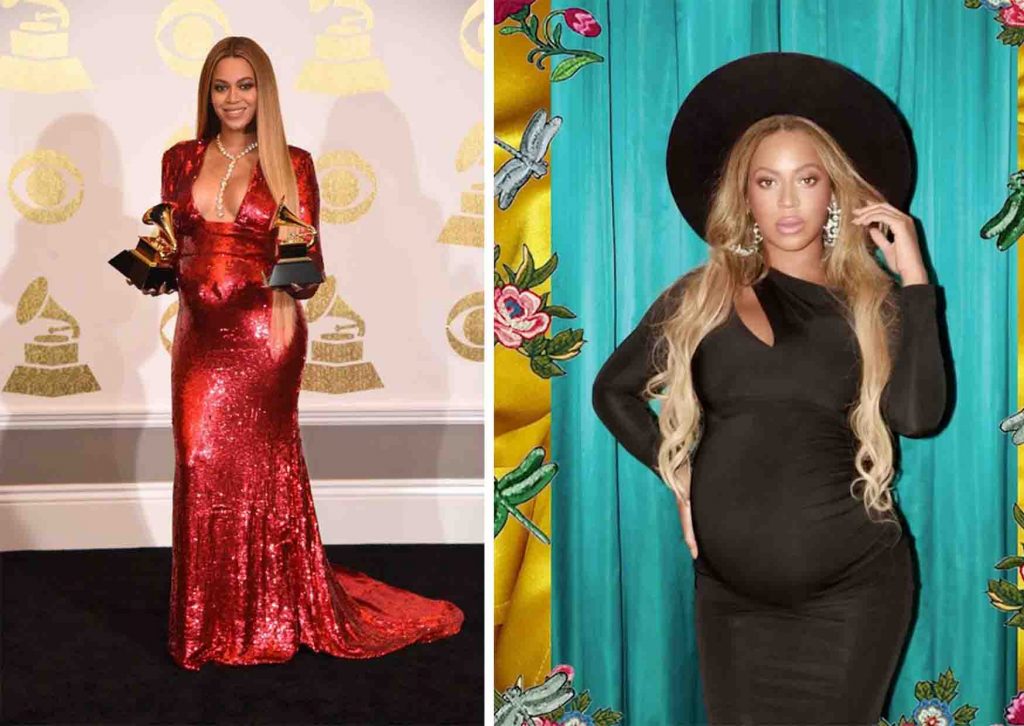 Recently, Gigi Hadid became a mother, and she was stylish and pretty in her pregnancy process. We were all amazed at her pregnancy shoots.
Sophie Turner was one of the new moms who gave birth last summer. She has a stylish pregnancy style. Also, she preferred comfortable sports clothes as her previous street style. Also, Jennifer Lawrence is the other new mom shining with her style.
Angelina Jolie is one of the iconic moms with her pure beauty. She preferred simple but chic dresses in her pregnancy, like her usual style.
Amazingly, women choose clothes where they can best express themselves and their bodies when pregnant. They shine in the clothes they feel best in. I recommend you visit this blog to get pregnancy-style inspirations that you can feel close to you.
Stay Stylish!
References for the Images
1, 2, 3, 4, 5, 6, 7, 8, 9, 10, 11, 12, 13, 14, 15, 16, 17, 18, 19, 20, 21, 22, 23, 24, 25, 26, 27, 28, 29, 30, 31, 32, 33, 34, 35, 36, 37, 38, 39, 40, 41, 42, 43, 44, 45