Hi lovelies! If you're looking for inspiration to style brown items and create the coolest brown outfits, this article is made for you.
When thinking of earth tones the first color that pops in our minds is probably brown. What's so special about this color you may ask, well the portion of sales is an evidence too but I'm here to show you. Now that we are in a world that started to accept the things as it is, going towards the neutrals is a no shock. Of course you can still have fun playing with colors but also keep the neutrals too. So take your neutrals to the next level with these brown outfits. We all know colors add freshness and modernity to the outfit and not everyone is a monochrome outfits lover. So firstly I'm going to give you some ideas of what colors can go with brown outfits, then we can talk about brown items piece by piece.
What Colors Goes With Brown Outfit?
No wonder brown is upstaging black, it's becoming an essential piece in our wardrobes and you can always finish with a pop of color. You can find inspiration wherever you look. All you need is to give your mind the chance to use your imagination to create the brown outfit you want and completely be yourself and confident. I'm sure the outcome will be exquisite.
Black and Brown Outfits
I don't know if anyone still thinks that black and brown outfits don't belong but I think they are doing more than fine.
White and Brown Outfits
These two colors remind me of light academia aesthetic so I love them together. Surely a minimalist favorite. This color will look so good with your brown outfits.
Beige and Brown Outfits
Beige can be boring alone sometimes but definitely not when with brown. It will add a bit of sophistication to your outfit.
Green and Brown Outfits
Green and brown give the forest fairy vibes and let me tell you I'm obsessed. You can find the inspiration you need from our main source, nature. When it comes to colors no one can beat mother earth for sure.
Pink and Brown Outfits
These colors can be simple and cute yet can be modern and just tie the whole thing together. It will give you a sweet elegant look and the freshness your brown outfit needs.
Blue and Brown Outfits
It's like a painting where the ocean meets the land. You can style them to look cool and effortless while still looking classy.
Yellow and Brown Outfits
They always give a cute vibe. It's the perfect option to look good especially in the Fall.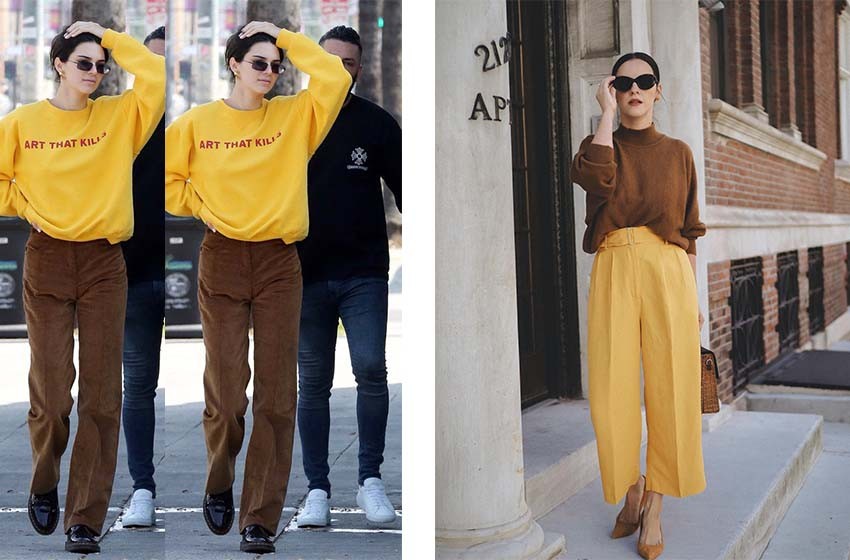 Brown and Brown Outfits
You can try contrasting different hues of brown. This color gives us a great range of tones. So feel absolutely free to choose whichever shade you like the best. You will create the best brown outfits.
Tops
T-Shirts
Tshirts are indispensable and extremely easy to style. It's an essential piece for every wardrobe. You can choose them to your liking, they can be elegant, casual, effortless, playfull,… anything you want.
Sweaters
Sweaters are a must, especially in the colder months when you just want to be comfortable. They will give you a cozy comfort just like a Taylor Swift song ;). And they can be very practical.
Crop Tops
Crop tops are what you need in hot weathers. They are very cute and can go well with so many pieces. It's a favorite of many right now and I think I know why. Crop tops look super comfy and stylish.
Turtlenecks
Turtlenecks never go out of fashion and you can style it with almost anything. They will create you a timeless brown outfit look. Turtlenecks are one way to look elegant. Use accessories to upgrade it or keep it simple for a more sophisticated look.
Sweater Vests
Sweater Vests are a masterpiece, especially with a shirt underneath. They give off the preppy look vibes. And you can easily turn the dream of being a student in hogwarts into reality. I know I do.
Corsets
Corsets have come a long way in terms of their usage. And right now is my favorite. They can be worn with a simple tshirt for more casual look or you can just wear it as it is and it will give you a unique and exquisite aura.
Cardigans
Cardigans are essential for chilly and cold weathers. You can elevate your outfits with a cozy brown cardigan. And let's not forget about the dark academia aesthetic, I live for it <3.
Button-up Blouses
Button-up Blouses can be dressed down with casual jeans or dressed up with a blazer or with anything you want. They are interesting and can be styled in many ways.
Bottoms
Pants can seem like easy to find but it's definitely not. So find a pair that suits your body and start styling. Brown pants outfits are one of my favorite. You can wear this with any kind of tops and it will look good.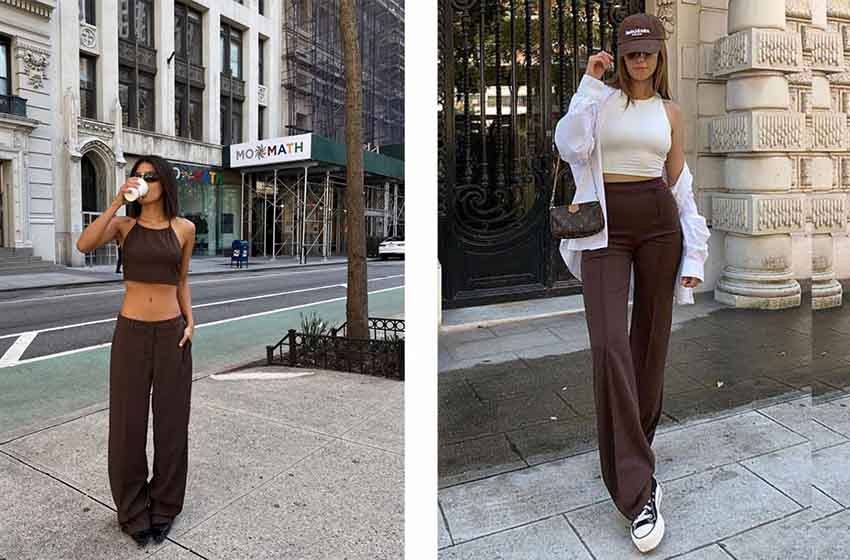 Jeans are an essential for sure. A good pair of jeans means good material, good material means it will last long and that means sustainability. When you find the right jeans, hold on to them and don't let it go for a long long time.
Skirts are a must-have item for a classy and elegant look or a simple and sophisticated one. Find one that suits your style and try pairing it with your favorite tops. They are very useful especially in hot weathers.
Shorts are many poeople's favorite in the summer. You can wear it in many ways, just mix and match it up, there are a lot of options. Try pairing with different types of tops. And let's be honest shorts are always a safe option for a cool summer look.
Dresses
Dresses are simple one piece items yet so elegant and make you look high-fashion. Great to dress down with white sneakers or a pair of high heels. Long, midi or short, open back or not, strapless or with long sleeves, find the perfect one for your body and style! Be sure the shade of the brown will suit your natural colors. Also they are perfect for the summer heat.
Outwear
Blazers are certainly items that will give you class. They are a pretty good choice if you want to feel dressed up or if you wanted to look professional. The perfect go to outwear with anything underneath.
Jackets are the ultimate fall/winter uniform. They can give your outfit a cool yet effortless vibe and at the same time, it keeps you super warm. Leather jackets give an edgy vibes to your outfit. And puffer jackets will give you the coziness you need.
Trenchcoats are the perfect outwear piece for the fall season, a staple for the colder months. They will make your outfit look more complete.
Coats are pretty fun if you ask me, you might enjoy your time exploring your closet to match it with what you have in your wardrobe. They are great for layering.
Shoes
Some people choose their clothes to match their shoes and some people choose the shoes that match their clothes. No matter whichever one we are, we all know the importance of shoes in our outfits. You can find the best choice according to the weather and your liking. But I have to say this, brown boots outfits just scream "I spent time on this outfit.", even if it takes five minutes to create it.
Accessories
When it comes to accessories you have countless choices. Accessories have definitely the biggest influence on our outfits, there is no doubt to that. If it looks good and makes you feel good you can use and wear anything. They will make everything seem put together. And of course makeup can be an accessory too, for more ideas you can check this Makeup Ideas & Trends article out.
And we have come to the end for brown outfits article. What I love about this color is that it can harmonize with all seasons. You can wear it however you love and apart from colors you can combine textures too, so keep that in mind. Finally, I found this video about brown outfits on youtube and I think it can be really useful, and this wonderful article about which celebrities wore brown and how, you should definitely check it out. I hope you found this article helpful and enjoyed it as much as I did. And don't forget "Wear to express not to impress ;).". xx
Stay Stylish!